Conant teacher wins New Teacher of the Year Award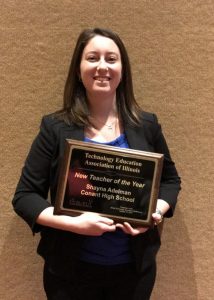 Shayna Adelman
Shayna Adelman, Conant's applied technology and physics teacher, received the "New Teacher of the Year" award at the annual Technology Education Association of Illinois conference in Bloomington on Oct. 30.
Recognizing educators in their first five years of teaching, the New Teacher of the Year award acknowledges "an outstanding 'new' teacher who is providing his/her students the most current curriculum available and staying professionally active so personal growth continues."
Adelman said she was "surprised and honored to receive this award."
"I did not know I had been nominated," she added.
Adelman is a robotics coach and a STEM teacher at Conant, but a lot of her work in STEM has been outside of Conant. She said, "I have given several presentations to other teachers about gender equity in STEM and teaching environmental sustainability and have attended several professional development opportunities outside of our district."
Adelman showcases her personal growth through teaching and learning. She said, "I'm always trying to learn more and share what wisdom I have."
Reflecting on her college days, Adelman talked about how they influenced her in becoming a teacher. "In college, I was the drum major of my school's student-run marching band. I loved leading the band members, helping them grow, and seeing the results of their hard work on game day. I wanted a career that would let me experience that feeling again."
"I wanted to be an engineer because I enjoyed math and science and loved the idea of designing new solutions to problems. I became a teacher because I wanted to inspire others," she added.
Kelly Guagenti, '19, who is one of Adelman's students, says that Adelman has helped her a lot in the classroom. "[Adelman] is so knowledgeable and really helps me understand the material we are learning. Mrs. Adelman always supports her students by offering one-to-one help. You can truly see she cares about her students and is willing to help them succeed."
Eric LeBlanc, the head of the Applied Technology department, believed the award was well deserved. He said, "[Her recognition] highlights the efforts that she has made to encourage students of all walks of life to pursue careers in STEM. Anyone who has ever had her as a teacher knows how committed she is in helping kids achieve success in the classroom."
Adelman advises her students to never stop learning. She said, "Find what you love to do and learn as much as you can, practice as much as you can. I wasn't a great student in college. It wasn't until I went back to school to become a teacher that I became a great student. It's because I had found my passion."