New Teacher Profile: Bridget Colleran
The Crier is conducting interviews to get to know the new teachers at Conant. This week, the Crier is featuring teacher Bridget Colleran.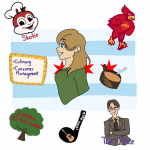 Julia Hajduga | Conant Crier
Crier: What is your favorite thing about teaching at Conant?
Colleran: The students. They're so down to Earth and relatable.
Crier: Can you describe your first day as a teacher?
Colleran: It was amazing to get to know all the students. It's kind of a blur because it was a little scary. Think of your freshman year. It's the same for us. It's definitely nerve wracking, but everyone at Conant is so welcoming, and the students are so eager. It was a lot of fun.
Crier: What advice would you give to kids who want to pursue a career in teaching?
Colleran: Be very patient. You have to look into someone else's eyes and shoes. You have to see what the student sees, and that may not always be easy. You have to be able to say what the student is going through before sitting down with them and asking what's going on. You're not only signing up to be a teacher. Teaching is only a quarter of what you're doing. Teaching is the fun part, but there's so much more to it. It's a lot bigger job than people think.
Crier: What's the most unique thing about you?
Colleran: I like adventurous things like skydiving.
Crier: What's the coolest thing you've done?
Colleran: I went to Korea over the summer and lived there for three weeks. I was babysitting the kids I used to babysit at ISU. They go to school in America, but go live over in Korea for the summer and during breaks.
Crier: If you weren't a teacher, what would you be?
Colleran: I would probably a professional skydiving instructor, or I'd work in a salon.
Crier: What's an embarrassing story from high school?
Giulia Ferreiramendonca | Conant Crier
Colleran: One time I got my pinky stuck in a piping tip used to pipe frosting onto cupcakes.
Crier: Do you have any regrets or things you would've done differently in high school?
Colleran: Being more in the moment with friends. Just enjoying who you're with and not worrying about others. Not always being in the moment and taking advantage of social opportunities.
Crier: How has high school changed from when you were a student?
Colleran: There's a lot more pressure, socially and academically. I remember how much pressure I had, and now there's a lot more pressure and push to go to college. Push yourself to do what you want to do. There's so many jobs that you can just get an associates degree for and be just as well off.
Crier: If you could be any animal, what would you be and why?
Colleran: A duck because ducks can fly and I really want a pet duck.