New Teacher Profile: Krystal Coleman
The Crier is conducting interviews to get to know the new teachers at Conant. This week, the Crier is featuring PE teacher Krystal Coleman.
Crier: What classes do you teach?
Coleman: [I teach] girl's sophomore Physical Education and junior/senior block at Conant and Dance I and Dance 2 at Palatine.
Crier: Why did you choose to become a PE teacher?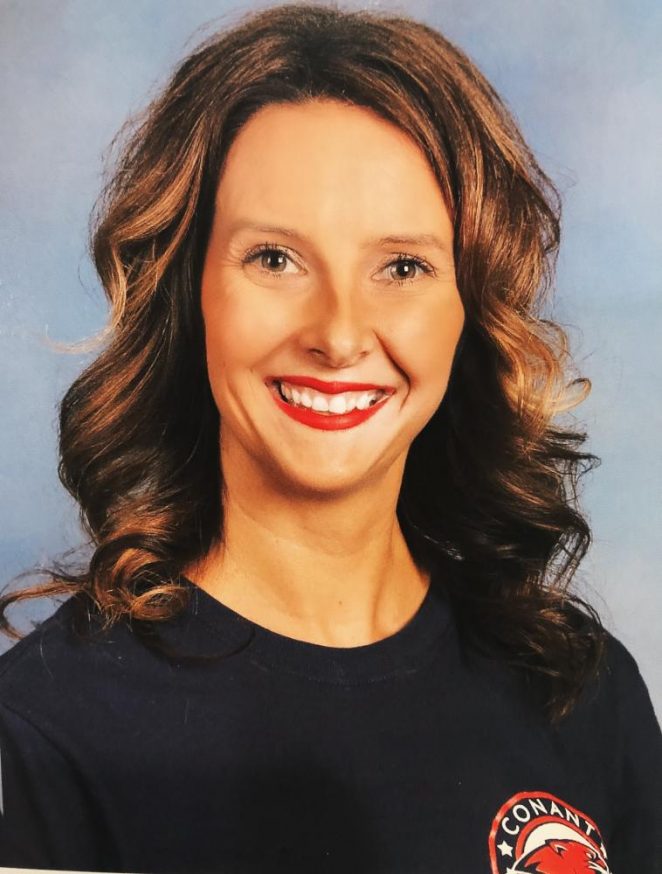 Coleman: From having a great experience in my high school physical education classes and also playing sports all of my life, I knew I wanted to be an advocate and role model for lifelong fitness and wellness.
Crier: Do you teach any classes or do activities outside of teaching? If so, how did you get interested in them?
Coleman: I enjoy yoga and running outside of teaching.  Having started up the yoga physical education classes at Palatine High School, it has been a big part of my life outside and within the classroom.  The students at PHS have responded positively to yoga with the focus on social/emotional learning and asana practice. Yoga has brought forth a new perspective on a few of many areas such as increased flexibility, coping strategies in and out of school, and reflection and education on personal health.
Crier: Do you currently sponsor or coach any extracurricular activities at Conant or Palatine?
Coleman: I coach Orchesis at Palatine. I have additionally coached 10 years of soccer at PHS, but now currently coach my children's soccer teams.
Crier: How have physical activities played a big role in your life currently or even as a high schooler?
Coleman: Playing soccer through college, dancing competitively in high school, and growing up with a fitness-based family, to name a few reasons, physical activity has been my passion and a part of my life.  Physical activity is my outlet, and many activities have helped me get through injuries, like yoga, and always improve my day and simply make me feel good physically and mentally.
Crier: Do you have a health coach or athlete that you look up to?
Coleman: Not specifically one person, but I love inspirational athletes that have overcome adversity like, [American professional surfer] Bethany Hamilton.  Resilience is the key!
Crier: Do you have any advice for students looking to pursue a career in the health and wellness field?
Coleman: Always keep this quote in mind: "Believe what you do matters." It is great to have passionate individuals who enter the health and wellness field to inspire, motivate, and educate others on wellness and health!
Crier: If you weren't a teacher, what would you be and where would you be?
Coleman: A home designer if I chose another career; otherwise, living in Maui.