New Teacher Spotlight: Gregory Grana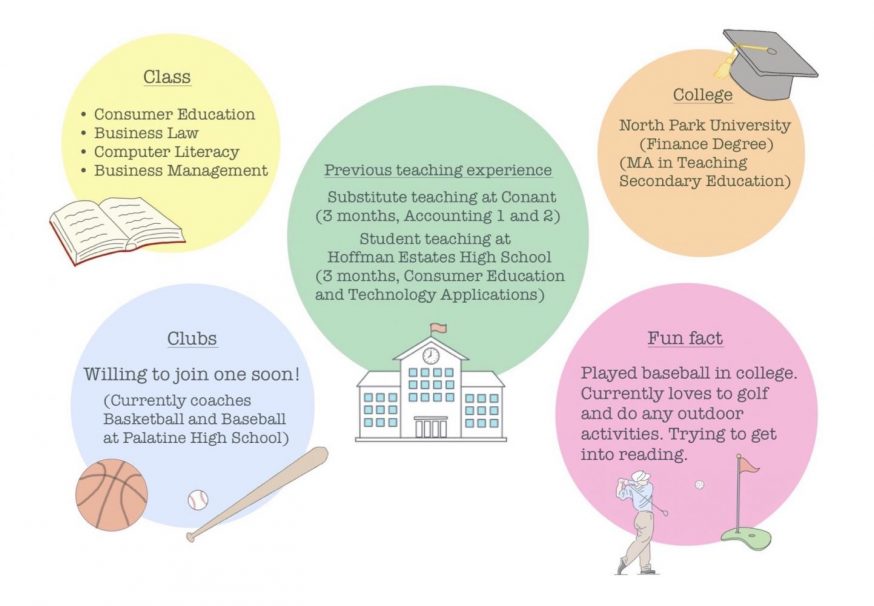 Kana Nagoya | Conant Crier
Crier: What is something interesting about you? 
Grana: I started my first job in a school as a custodian. Then I worked as a technology assistant and I got to become a maternity sub in my student teaching all within District 211. Getting to be a District 211 graduate is also something that is very special. I graduated from Palatine High School. I know a lot of District 211 graduates and current teachers. That's something that I really take a lot of pride in. 
Crier: Have you taught at other schools before Conant?
Grana: No, I actually had a job in the finance and business world. And then I decided that that really wasn't for me and that I really enjoyed teaching.
Crier: Why did you become a business teacher?
Grana: Even though I did not enjoy my time as much as others do in their finance jobs, I am still very passionate about business. I think business education is something that can be applied to individual lives, such as what you spend your money on or what a loan is. I think those are very valuable and useful information for everybody, no matter what they do in their life.
Crier: Why do you think that students should take business classes?
Grana: I think that all students should take this because it's very important to understand money management. At Conant, we offer so many different business classes so it's very hard to find one that you wouldn't be interested in. All the way from finance and investing, which is more advanced, to technology applications, computer literacy, and learning about computers. They are all very useful classes.
Crier: What is one thing that you keep in mind when teaching students?
Grana: Something I keep in mind when teaching students is that I have no idea how they got to where they are. We are so diverse in so many different ways, and that's something reflected in the teaching staff, the administration, as well as the student body populations. Everybody comes from such a different background and has their own story. I don't know if something that I might say or do means something different to them than it does to me or to a different student. 
Crier: Does your mindset change while teaching remotely?
Grana: It's so interesting because before I could talk to students, and get a sense of how they go about their day by seeing them walk into the classroom and asking like "Hi, how are you?" Even though they might say, "Good" it might be in a couple of different ways. It might be like "Oh good" or like "Uh good" or just walk right past me. So it's that same idea of me not really knowing how their day is going but still trying to be open enough for students to be able to come to talk here.
Crier: Is there something at Conant you're excited about?
Grana: I'm excited to see how Conant high school would develop me as the best possible teacher that I can be. Being a sub at Conant last year, I got a little bit of a taste of the student body population as well as the assemblies and others. I know how great the students are and how much fun the assemblies are and I missed them so much. 
Crier: If you weren't a teacher, what would you be?
Grana: If I wasn't a teacher, I would own my own zoo. I love animals and I love going to the zoo. Horses are my favorite animal. I grew up watching horses and horse racing so I always just thought that they were unbelievable animals.
Crier: Is there something that you've regretted through your high school experience? What advice would you give to students?
Grana: High school is such a difficult time. One of the main reasons I wanted to become a teacher was to help students get through a very difficult time. Something that I would tell students is to do things that interest them, join as many clubs and activities as they can, try to do as many after school activities and sports to meet as many people as they can because there are so many other students and teachers that have similar interests. Sometimes without stepping out of your comfort zone you never get to really find that, and that's something that I wish I did a little bit more.
Crier: Do you have any messages for the students?
Grana: My message to students is to be patient with their teachers. I'm sure that all students could teach something to the teaching faculty right now about technology. So to continue to be patient with teachers, and to be excited about the new opportunity of things that we have to learn. I know that when we get back into the classroom, everybody is going to be excited to be there. It wasn't always that way so I hope that they hold on to that excitement and I can't wait to see them as well.