Cross-curricular vaccine event aims to connect and inform students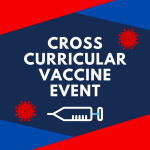 Diya Thomas | Conant Crier
Conant High School will be holding a cross-curricular vaccine event across the science, social studies, and family and consumer sciences departments. 
The science department will lead the event with a webinar during science classes on February 24 and 25. "Groups of upperclassmen who are passionate about science will give presentations about the virus and vaccine-related topics," said David Torpe, Dean of Students and Physics teacher. "The goal is that it's all student-created." Topics include defining a virus and debunking myths about vaccines. For those interested in learning more about this topic, student presentations can be accessed and viewed with this link.
Students were asked in their science classes for their participation and have begun preparing their presentations. 
The goal of these presentations is to provide students with information to make their own decisions regarding vaccinations. Presenter Adya Verma, '21, said "I think this will really benefit the school because it will allow everyone to learn new things and also be equipped with the facts and arguments to make their own decisions about a pressing topic."
The social studies department will follow up with a debate on March 4 and 5, in which a link will be later provided. Students will present arguments to a panel of representatives that will decide the order of the COVID-19 vaccine distribution. The representatives will be other social studies classes watching the debate.
AP US Government and Politics teacher Jeffrey Stewart explained the purpose of the debate. "It's an opportunity for younger students to be inspired by seniors. We've missed the interaction between the classes and this is a chance for seniors to show freshmen how it's done at Conant."
Debater Nick Chen, '21, believes that the debate will also be a learning experience for many. "A lot of people, myself included, don't know much about the vaccine process like what's in it, how's it made, who gets it, and so on. Hopefully, the debate will increase civic engagement, awareness, and possibly, access to vaccines."
The family and consumer sciences department will be involved in the event through the Secondary Education internship program. Students will work in groups to create follow-up activities and lessons for the presentations and debates. Teachers will then be able to select from these activities to use on the second day of the events.
FCS Department Chair Angela Drenth explained the importance of cross-curricular events. "I think this benefits the Conant community by bringing awareness to something that is very current in our world right now and showing that everything we learn is connected! Understanding how a topic works across disciplines or departments helps students gain a better understanding of all of the parts involved and how they are interrelated."
FCS student Olivia Messerges, '21, believes that these activities will continue to inform and educate students. "This year has been unlike any other and it is important that teachers are taking time to bring awareness of the severity of the pandemic," Messerges said. "While this may not be your typical lesson plans, teachers need to help students to understand what is going on in the world around them, so that they can become informed citizens and help to give back to their community."