Power outage leaves students and staff in the dark
It is a typical school day. You're sitting in your classroom, typing away on your iPad as your teacher writes the notes on the board. Suddenly, you're consumed by complete darkness. A power outage has surged through the school, leaving you and your classmates clueless. Not only that, but you are not allowed to leave the classroom because the emergency lights failed as well. This was the dilemma faced by the student body of Conant High School when the lights went out on February 17, 2017.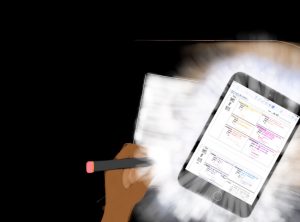 Mauli Patel
What Happened?
CHS suffered a power outage a few weeks ago, leaving both students and teachers with a lot of questions.
CHS Building and Grounds Manager Keith Bundgard explained that the power outage was related to issues faced by Conant's power source, ComEd. "One of the switches in their yard tripped," Bundgard said. "They were able to bypass around it to get us power."
This isn't the first time CHS has lost power, but this time, the emergency lights failed to turn on. Assistant Principal Robert Small explained that the generators are tested twice a week, so it was unexpected when a circuit board blew. He said the circuit board has now been fixed.
The power went out during the middle of seventh hour, and the problem was resolved in 15 minutes. If the situation hadn't been resolved by the time the class ended, Principal Julie Nowak said it would've created a safety issue for students because it would be unsafe for students to roam through the pitch black hallways. Nowak explained that if the situation had not been resolved in time, students would have been held in their classes.
Nowak also explained that the administration has procedures for handling these kinds of situations. "The staff has very specific roles, ranging from communication…to dealing with the issue at hand," she said. "Our priority is always student safety."
Nowak said that to stay safe if an outage like this ever happened again, "Establish as much normalcy as possible."
Teacher Response
Teachers handled the power outage in different ways based on what they thought was happening, but it did not seem to interrupt instruction in a meaningful way for most.
A few teachers were able to ignore the darkness and continue to teach as if nothing had happened. Dean of Students and math teacher Derek Fivelson was in the middle of teaching his class when the lights went out. "I taught the entire time," he explained. "I didn't think it was a big issue."
Mauli Patel, '18, was learning in Fivelson's room when it went dark.  She said, "It was surprising, but he continued teaching. So, it wasn't really a big deal."
Some teachers took further measures.  Matt Wozniak, '18, said, "I was expecting the generators to turn the lights back on. My teacher locked the door and covered the window with a poster."
Safety Concerns
A power outage is not a situation that a school can expect, but it does allow them to assess issues that should be acknowledged.
"Every now and then you're going to have those inconveniences that get in the way and disrupt your routine," Nowak said. "As long as we're being safe and making the smartest calls, those types of things are going to happen."
Wozniak said, "This is not a very serious issue, but it should not happen often."
"We were in a room with windows, so we weren't in complete darkness, but for other classes it was disruptive and unsafe," he continued.
Nowak talked about changes made during any emergency. "Every time something happens it gives us an opportunity to look at our procedures and make small adjustments," she said. "This time I changed where I had my flashlight."