COVID-19 safe activities planned for seniors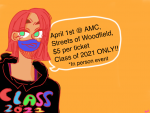 Amelie Pineda
"When my parents said that high school would fly by, I don't think they meant it like this," Genieve Wulf, '21, said. "Senior year is a milestone in someone's life because it represents the end of an era and we haven't had any of it. It's just a year full of what-could-have-beens." 
Wulf isn't alone. Many seniors have struggled to come to terms with a school year forever changed because of a pandemic. Still, district officials have been working on ways to keep up with IDPH guidelines while providing seniors with as many opportunities as possible to make memories before the school year comes to a close.
At the end of January, Conant staff held Zoom meetings to hear what seniors wanted to see happen in their final months of high school. Assistant Principal and Activity Director Mark Langer said that the event was very helpful for the teachers to know what seniors were interested in. "[The administration and senior sponsors] actually ended up changing a couple of ideas because of those sessions," Langer said. "We originally discussed the idea of a virtual handprint, but one of the things that we heard is seniors are kind of over Zoom." 
As a result, the administration and senior sponsors changed their plans and the seniors did their handprints in person at the end of February. Unlike previous years where students put their handprints on the wall, this year they did it on a banner, allowing it to be more mobile–for example, it could be taken to an event held outside. This way, the handprints are more permanent, as they will not be painted over for the next seniors. Seniors who came for their handprint also got a free senior t-shirt from the Conant Boosters.
Maria Feng, '21, attended one of the listening sessions. She said some students suggested a drive-through graduation similar to the one held for the class of 2020. "Possible monthly events like movie and trivia nights involving prizes were suggested as well," Feng said. "However, it would be difficult to truly enjoy a senior year without experiencing it with friends in person." Nevertheless, Senior Class sponsors soon took action on that suggestion.
A couple weeks after the suggestions meetings, seniors received an email about a Senior Night in the AMC Movie theater in Woodfield on April 1. A ticket is $5. There will be multiple screens, and seniors will be able to RSVP ahead of time to go with their friends. The movie choice is dependent on what seniors responded to the survey in the email. The choices were Ferris Bueller's Day Off, Back to the Future, Jurassic World, and 42.
Seniors also suggested a seniors-only day in school. Langer said, "Nothing is off the table, but it might be very difficult based on our schedule." Langer said there is already a limited amount of time teachers have to spend with students this year. 
Langer also said seniors suggested a senior breakfast out on the field rather than a traditional buffet at the hotel. 
Student Council Sponsors David Moravek, Monica Aubin, and Karla Modelski are working on some discounts at local restaurants like the recent offerings from Shake Shack and Village Tavern. Students are encouraged to reach out to a sponsor if a restaurant they know is willing to partner with the school. 
"It's something to look forward to," Langer explained. "We have found that our community stands with our students. They know that this is a tough time for our students, and they want to be supportive as well."
Many students are also looking forward to Prom. However, dance floors are closed due to COVID-19 restrictions, so teachers are trying to plan a fun night for students while also following the guidelines. To keep the numbers manageable, there are ideas of senior-only Prom and Conant-only events planned. Seniors have had mixed feelings about these ideas.
Wulf said she would want to attend Prom, even if it looks different than usual. "I think they should do a dance floor, but it's spaced between couples or groups. If students are already arriving together, what's the point in distancing those people? I feel selfish about wanting a Prom, but our class got absolutely nothing out of our upperclassman years." 
Andrew Horwitz '21, on the other hand, would not be interested in attending. "I understand that they are trying to meet the state's standard for COVID, but I don't feel like I would be missing out at all if I didn't attend this event. I truly appreciate the effort that the Conant staff is trying to put into creating somewhat of a better year for us, but I feel as if it is almost too little too late."
Administration, Student Council, and others continue to plan events for seniors as the end of the year approaches. Students should check Schoology and their email to follow announcements of upcoming events.