Student of the week 1: Juhi Shah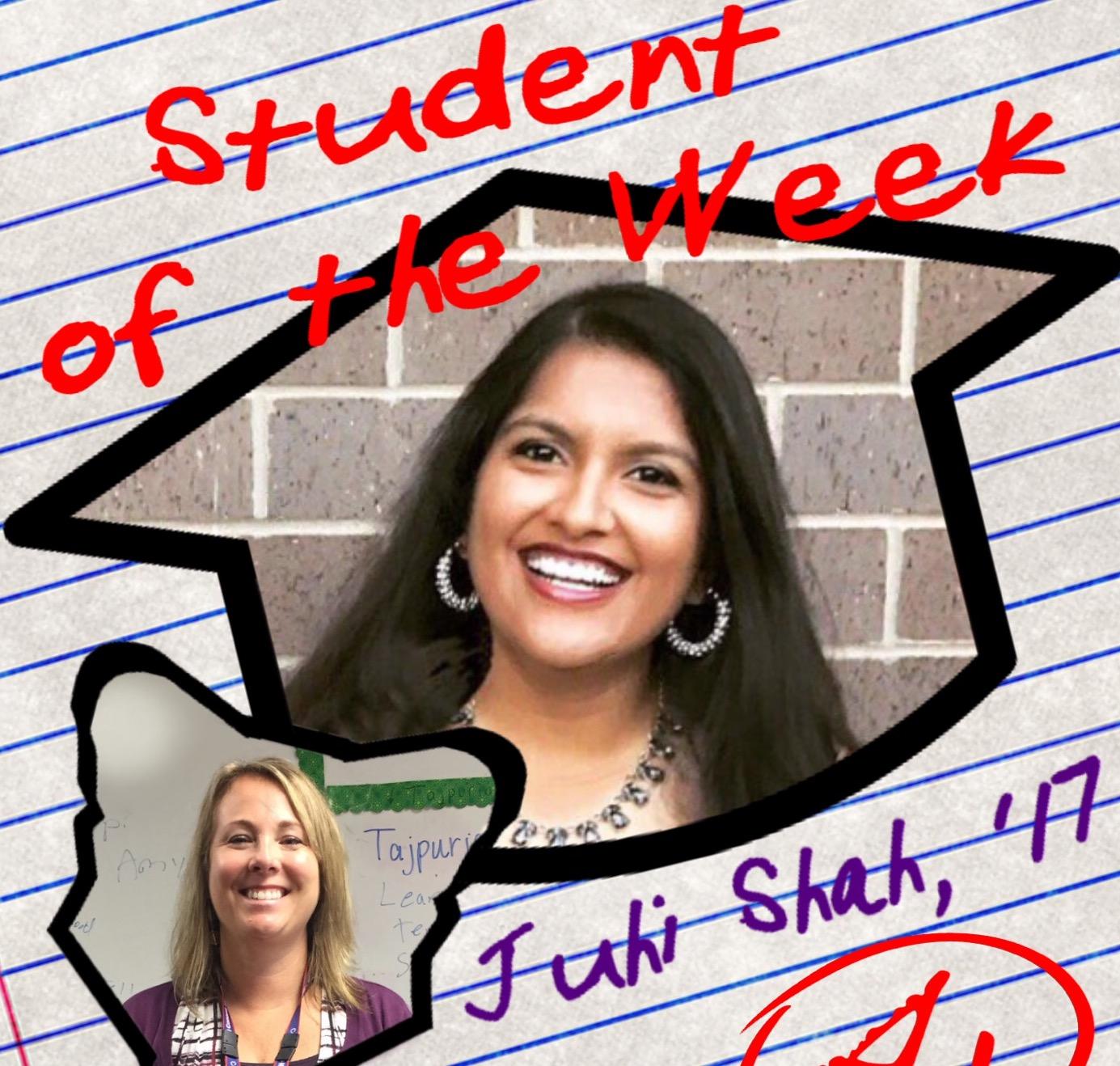 Since the beginning of the year, students have recognized teachers who've made a real impact in their lives. Now, teachers have also nominated hardworking and enthusiastic students who create a positive atmosphere in class. Each week, a new teacher will nominate a student for the recognition.
For week one, psychology teacher Jennifer Stearns nominated Juhi Shah, '17.
Stearns: As a junior, [Juhi] was in my AP Psychology class, and now she is my intern. Both as an intern and as a student, she is excellent! Juhi not only is hard working, but she has the drive and creativity that will make her an excellent teacher! I am so lucky to have her.
Crier: What are some ways you like to get involved in school?
Shah: I participate in as many extracurriculars as I can. I've been a part of the tennis team, National Honor Society, Principal's Advisory Board, Operation Snowball, Health Occupations Students of America (HOSA), Cultural Awareness, and Book Club.
Crier: What are your favorite school events?
Shah: My favorite school event is Homecoming. I've gone all four years, and each year has been better than the last. I also love the fundraisers we do. Recently, Conant had a Garage Sale, and giving back to the school and community just has an indescribable feeling.
Crier: What do you do when you hang out with friends?
Shah: My friends and I have this bucket list we made for senior year, and we try to meet up and check a couple things off every time, but mostly, we just show up at each other's houses and hang out while doing homework. We're not much planners; we're all very spontaneous.
Crier: As the student of the week, what's a quote or tip you'd give to other students for success?
Shah: You are allowed to fail. You can still succeed even if you fail a few times along the way. Just don't let it bring you down.