Black Friday's early Thursday sales interfere with Thanksgiving celebrations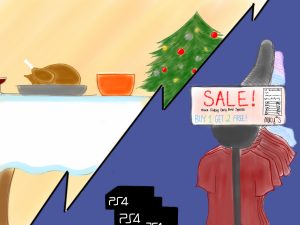 Mauli Patel
It is 3pm on Thanksgiving day, and my family and I are enjoying a home-cooked meal in the dining room. Exchanging smiles and laughs, we are all thinking of how grateful we are to have each other in our lives. The moment is priceless. After dinner, my mom, my grandma and I look through Black Friday ads together, deciding which stores to go to the next morning. After a good night's sleep, we enjoy a a delightful Friday shopping trip.
This is what an ideal Thanksgiving day should look like. But, for the past few years, many stores have been starting their sales on Thursday afternoon rather than on Friday. My mom, my grandma and I will definitely be missing out on those stores because we value celebrating Thanksgiving with a family dinner. However, we should be able to have the best of both worlds. Thanksgiving and Black Friday shopping should be separate events to optimize family bonding experiences.
Black Friday starting on Thursday afternoon overshadows the real meaning of the holiday. Thanksgiving is all about family and appreciation of people and things our lives. We are supposed to sit down with loved ones, not be a part of a crazy crowd to shop for meaningless items. The fact that Black Friday is starting to become the star of Thanksgiving shows how we prioritize materialistic things over family and friends.
Nevertheless, certain stores still uphold the true ideals of Thanksgiving. These are some of the stores that I support and suggest you go on Black Friday in the morning: Bath and Body Works, Bed Bath & Beyond, Costco, GameStop, Home Depot, Menard's, and Marshall's.
On the other hand, stores I do not support include: Best Buy, Big Lots, JCPenney, Kohl's, Macy's, and Toys R Us.
Today's generation is too focused on materialism. Thanksgiving is one of the only times we get the opportunity to appreciate our friends and family. The shopping festivities are meant to happen on Friday- it's even in the name. Let's keep it that way.