'The Princess and the Pea' gets a new twist in 'Once Upon a Mattress'
Conant Theatre is presenting "Once Upon a Mattress" as its annual musical, retelling the classic fairytale "The Princess and the Pea" but adding a twist audience members may not expect. 
The musical begins by telling the audience that the original story they know is only the tip of the iceberg. The story takes place in a medieval town where none of the citizens can marry until Prince Dauntless the Drab (Logan Franklin, '21) marries, creating tension.
With his girlfriend, Lady Larkin (Michele Gurierri, '20), pregnant, Sir Harry (Nicholas Rogacki, '21) is determined to find a princess that could marry the prince. He finds Princess Winnifred the Woebegone (Abriana Tereza, '20), a spunky girl that takes the kingdom by storm, and has to prove to Queen Aggravain (Anna Kalmar, '22) that she is a princess by passing her tests. 
Musical director and English teacher Katherine Apperson said, "The chemistry [the cast] creates and brings is different than any other show."
Franklin said one of the most important lessons from this musical is that "you don't have to be what someone else wants you to be."
Kalmar said she enjoyed making new connections with the cast and crew. "We got to hang out with [the crew] a lot this year because the set and pieces were so complex."
Even though the musical takes place during the medieval period, the cast feels that they can relate to their characters. Tereza, who plays Princess Winnifred said, "I do relate to her [Winnifred] a lot. Her manners, her views, everything. I feel very connected to Winnifred."
Gurrieri, who plays Lady Larkin said, "It's really fun, dramatic, and funny. It's different from anything we've ever done so far. We did two classics during my freshman year and a modern [play] last year. This one's almost like a soap opera, and I think the audience is really going to enjoy it."
The cast is made up of 45 students, with this being the first Conant musical for some. Over 30 students helped build the sets and props, and approximately 40 students are a part of the sound and light teams.
The showtimes are Oct. 31, Nov. 1, and Nov. 2 at 7:00 pm. There will also be a matinee on Nov. 2 at 2:00 pm. Tickets are $10, but students can get them for $5 if they bring their ID. Tickets can be purchased online or at the door before performances.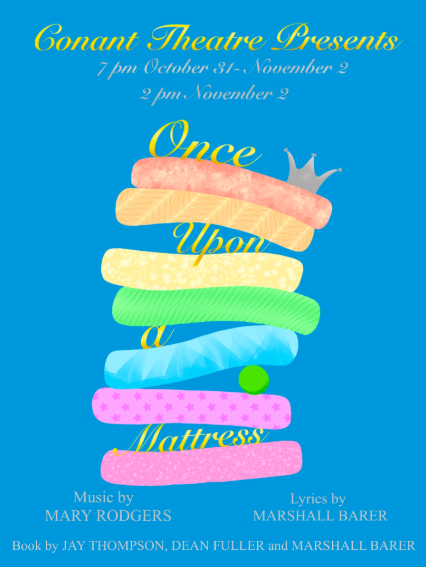 Karissa Han