Basic tips to break pre-prom stress
Sweet Escape Prom 2019 is finally here! With only a few days left until the big event, here are a few basic tips to help mitigate some of the pre-prom stress.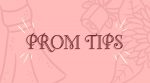 Futo Wada
Flowers
Having a bouquet of flowers is an essential for taking prom pictures. It makes for cute poses and acts as a cute accessory. However, with prom only a few days away, florists may no longer be taking orders. But there is no need to worry! You can easily make your own bouquet, and it will be just as effective. All you need to do is buy flowers of your choice (whatever compliments the color scheme of you dress) and some ribbon. Arrange the flowers in a pleasant display, and wrap the ribbon around them into a bow. Cut down the stems of the flowers to shorten the length, and you're set! These personalized bouquets can be cheap and fun to make with friends.
Hair and Makeup
This is is arguably one of the most stressful parts of prom preparations. Determining what look you want to go with is one thing, but figuring how you're going to do it is much more  difficult. If you're lucky enough to be skilled in this field, then that is perfect. But if you don't fully trust your hair and makeup skills, it can get a little more complicated. If you don't have an appointment yet, you can still try calling local salons to see if they are taking any last-minute clients. If not, it's never a bad idea to turn to the internet. There are hundreds of hair and makeup videos that are relatively easy to follow and can give you some guidance on putting your look together.
Comfortable Shoes
If you're going to be on your feet and dancing for four to five hours, you want to make sure you're wearing comfortable shoes. If you plan on wearing heels, it might be a good idea to bring a pair of flats or at least some socks to change into. Heels, while looking amazing, are inevitably painful, and you don't want that to get in the way of your fun. You can also opt to wear flats to begin with as long as your dress isn't too long. Some people even have fun and wear converse and crocs with their outfit. It's all really up to you!