How to score the best Black Friday deals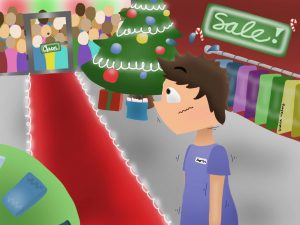 Sidra Capriolo | Conant Crier
It's the most wonderful time of the year, but also the most hectic. With the holidays around the corner, everyone is in a frenzy shopping and looking for the best deals. Black Friday is busy, and while it can be overwhelming, it's also a great way to buy holiday gifts at discounted prices. Here are a few tips and tricks to help make the most of your Black Friday experience:
Get out early
Most stores have doorbusters starting Thursday evening, and if you're looking to score the best deals, it's important to start shopping early. Popular products and items that have been heavily discounted will sell quickly. By starting your shopping early and heading out Thursday night, you'll have a better chance of getting the deals you want.
Develop a plan
Before going shopping, prioritize where you want to go to make things less hectic in the mayhem of Black Friday. Based on the best deals and what you want to buy, plan out which stores you would like to go to first. Both malls and department stores have busy parking lots, so it's best to park in any available spot and walk from store to store. With hundreds of other people wanting the same products, it's also important to prioritize the items you want to buy the most. If you plan on buying a popular product, try to make it one of your first purchases to ensure that you can get the desired deal on it.
Have a budget
With an overwhelming amount of deals, impulses purchases can be tempting. However, by establishing a fixed budget for how much you can spend, you can prevent a post-shopping shock when looking back at receipts. A budget can ensure that you stay within your limit. Paying in cash can also be helpful, as it will help you stay on track and stay aware of how much you are spending.
Compare prices
If you're shopping for a specific item, compare store ads beforehand to find out where you can get the best deal. Oftentimes, retailers will advertise competitive prices for bigger purchases, so it is important to narrow down the options. Include online prices into the comparison, since they can be cheaper than the in-store price.
Where to go
Even though it is extremely busy, Woodfield Mall is a great place to take advantage of as many Black Friday deals as possible. Department stores like Macy's and JCPenney advertise discounted prices on items for the whole family, acting as a base for your shopping trip. These stores advertise sales on everything from clothing to home decor, providing a great opportunity to get the desired price for many items on your list.
If you don't mind walking through crowds, then stopping at your favorite stores in the mall is also a great way to get deals on clothing, shoes, and more. In the past, retailers including American Eagle and Hollister provided a discounts on your overall purchase, in addition to reduced prices. Stores such as PINK offer a free gift if you spend a certain amount of money in store, which can be an added bonus to your deals. While the experience may be chaotic, going to the mall provides an opportunity to buy your favorite items at discounted prices, making everything worth it in the end.