Staff Monthly Picks: August
The editors of the Conant Crier enjoyed a wide variety of products and activities throughout August. Here are some of the staff's favorite items; we hope you enjoy them just as much as we did!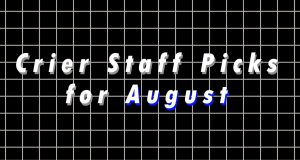 Futo Wada
1. Book of the Month: No Longer Human -Futo
"No Longer Human" by Osamu Dazai, written shortly before the author's death in 1948, captures isolation and anxiety in the most raw, honest form. Put in the form of autobiographical anthologies left behind, a majority of the book is written in first person, following the life of Yozo, who realizes his own alienation from society and constantly ponders the question of what it means to be human. Although dealing with many distressing factors, the book never seems to fit the tone of melancholy. For that reason, the book provides an eerie, almost fear-inducing perspective on the feelings of Yozo. The book explores the character's journey in becoming disqualified from humanness, which also happens to be the literal translation of its original Japanese title.
2. Song of the Month: YOSEMITE by Travis Scott – Arisha
"YOSEMITE" is the 12th track off of Travis Scott's third studio album "ASTROWORLD" released on August 3. The song features Gunna singing the main chorus along with vocals from Nav. Since most of the album is fast paced, it's nice having an alternative slower track that helps transition and propel the overall flow of the album. The most prominent aspect of the song that made it my monthly favorite would be how effortlessly it flows with the intricate guitar chords in the background and the nonchalant beat that's almost syrupy in a way. It's definitely a song you can chill to at the end of the day, or even on a car ride with your friends!
3. Movie of the Month: BlacKkKlansman -Sarah
The comedy "BlacKkKlansman" was released Aug. 10 and is directed by Spike Lee and written by Jordan Peele (who also wrote and directed "Get Out"). This movie takes place in 1979 and follows Ron Stallworth, played by John David Washington, the first African-American Colorado Springs police officer. Stallworth, originally hired to infiltrate black civil rights groups, finds himself impersonating a white man (with the help of co-worker Flip Zimmerman, played by Adam Driver) to investigate the seemingly non-violent Colorado Springs Ku Klux Klan chapter (which proudly calls itself the "Organization"). The use of comedy helps shed light on the ridiculousness of the KKK, but also, as we follow Stallworth's conflicted journey as a black cop, we begin to see how lightly the deadly effects of racism are taken in a not-so-post-racial world. Filled with nods to cinematic styles of the 70s, knee-slapping quips, and cringe-inducing racial slurs, "BlacKkKlansman" causes the viewer to examine his or her own ignorance and position in an age that prides itself in being equal for all.
4. App of the Month: Sleep Cycle -Morgan
This app is really helpful, especially for school nights. It tracks both your sleep and its quality. It shows you the time spent in bed, if you snore, your quality percentage, your steps taken that day, and a sleep chart. This app is free, but you can update to premium and unlock some special features. It connects to your health app, if you have an iPhone, and shows your sleep time and tracks when you are awake during the night. This app motivates me to get a good night's sleep, and I highly recommend downloading it.
5. Food of the Month: Chocolate Chip Cookie Cake -Michelle
Chocolate chip cookies are delicious, but chocolate chip cookie cakes go to a whole other level. The cookie is gooier, softer, and, most importantly, larger! This dessert was one of the earlier ones I learned to bake, and it continues to be one of my favorites. One of the great things about this dessert is that it can be for all occasions. Whether it's for Christmas or Valentine's Day, spring or fall, a casual get together or a huge party, you can always make a chocolate chip cookie cake. I've personally made this baked good as a default dessert on many occasions. Even if you don't know how to bake, the chocolate chip cookie cake is still a great food to enjoy.
6. Skin Care Product of the Month: Lush's Mask of Magnaminty- -Iqra
Face masks are the perfect remedy for a long, stressful week and are definitely my go to skin care product when I'm looking to relax. However, even after trying dozens of brands, I never felt like I was seeing visible results in my skin after each use–that is, until I came across the product I can now swear by: the Mask of Magnaminty by Lush. Not only does this product do a great job exfoliating the skin and clearing up blemishes, it smells absolutely amazing! It has a strong peppermint scent, which provides a slight tingly sensation once on the skin; I have definitely seen an improvement in my skin after each use of this mask. The best part is, the mask is made of all natural ingredients! I highly recommend this product to anyone looking to improve their skin care routine.
7. Beauty Product of the Month: L'Oreal Voluminous Mascara -Devanshi
My favorite mascara has to be the L'Oreal Voluminous Mascara. Makeup can often be too expensive, especially if you get it from higher end store like Sephora or Ulta; however, many drugstore makeup items are just as good as the higher end ones. You can get the L'Oreal Mascara for as cheap as five dollars from retail stores like Walmart. This mascara makes your eyelashes look voluminous, healthy, and full! This mascara is a must have for anyone who loves makeup!
8. Clothing Store of the Month: Old Navy -Jeffery
My favorite store this month would have to be Old Navy. I consider myself a pretty fashionable person, and I can guarantee that I'm constantly rocking something from Old Navy. This store has all the essentials to upgrade your look while also being fairly inexpensive. It seems like there's some type of sale going on every time you step foot in the store, and who doesn't like to save? As a plus sized person, it can be very hard to find clothes that are comfortable, that fit, and also look good, and Old Navy checks off all the boxes for me. Old Navy hasn't let me down thus far, and I doubt it ever will.
9. Eatery of the month: MOD Pizza -Radhika
From its "Isaac" to its "Dillon James" to its "Make Your Own" Pizza, MOD Pizza seemingly has an option for every type of pizza lover: the vegan, the carnivore, the cheese fanatic—you name it! Although MOD Pizza has been a popular place to visit in Schaumburg since last fall, I only caught up with the hype surrounding it and its famous artisan-style pizzas and garlic sticks very recently. I perused its menu—particularly the "make your own pizza" section—and was immediately intrigued by the breadth of choices it offered. I remember thinking that there weren't many pizza places with Chipotle-style, build-your-own bars and that Pi Five—back when it was still in business—didn't offer nearly as many sauces, crusts, or toppings as this new place did. Upon taking my first mouthful of the cheesy, corn and basil-topped pizza I'd ordered my first time there, I knew it was love at first bite!
10. Travel Location of the Month: Dubai -Hannah
From the world's tallest building to the world's largest mall, Dubai has so many sights and attractions to offer. While there are many man-made attractions, I highly recommend going on a desert safari, because it's almost the equivalent of a roller coaster by car. Taking a quad bike and riding over the dunes is something everyone should experience. There are many things to do in the dessert, but what I enjoyed the most was transportation by a camel. Holding on to the reins for dear life as the camel stands up, and comes back down is something you definitely don't want to miss out on.
11. Sport of the Month: Football -Isaac
After waiting for so long, my favorite sport is finally back in session. I am a firm believer that football brings people together, not only here at Conant but throughout the rest of the nation. Just watching college football this month reminded me of how much I not only missed the game, but the atmosphere that comes along with it. I like to say that the first Saturday of the college football season is a national holiday because there is just so much excitement and celebration that comes along with it. Going to a college football game at a major program should be on everyone's bucket list because it will feel like going to a party with up to 100,000 of your closest friends.
12. TV Show of the Month: The Man in the High Castle -Rhea
The Axis powers have won World War 2.
The United States is split into 3 zones: the Japanese Pacific States, the Neutral Zone, and Nazi America. A group called "The Resistance" is fighting against the current government. Tapes that show alternate versions of history are leaked. The Nazis and the Japanese kill any person linked to the Resistance. This is the world that encompasses "The Man in the High Castle." The TV show builds its intricate world through the variance of perspectives; the audience explores the world with the characters. The show presents the story through common human characteristics and justification. This creates the eerie feeling that makes you question your own reality. The characterization makes you feel as if you are living in that version of history; it emotionally grasps your attention, making you relate and empathize with every character. The real reason this show grasped my attention was the questioning aspect. The "what if" ideas/scenarios continue to make me analyze human behavior and its effects. For example, the show illustrates the fulfillment of dictatorships in the United States, but in reality the US functions on a democratic government. The show takes something very real to portray what could have happened, which allows more discussion and debate. Personally, my favorite part about watching/reading content is the discussion about the different interpretations.