Staff Monthly Picks: February
Throughout February, Crier editors have enjoyed many products and activities–here are some of the staffs' favorites. We hope you enjoy them just as much as we did!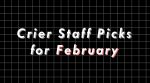 Futo Wada
Book of the Month: "How to Stop Time" -Devanshi Thakkar
One book that really captured and maintained my attention this month was "How to Stop Time" by Matt Haig. If you love a mix of historical fiction, romance, and mystery, then trust me, once you start reading this book you won't want to put it down. The book is centered around a guy named Tom Hazard who appears to be in his late 30s; however, he is actually over 400 years old. "How to Stop Time" takes you back to the Shakespearean era, the Witch Trials, the Plague, and many other significant historical events. Along with having a historical aspect, the book also balances out a brewing romance between Tom, who isn't allowed to fall in love, and Camille, a French teacher. This is book is a definite page turner!
Song of the Month: "Garden" by Hinds -Sarah Ahmad
A song that I've had on repeat is "Garden" by Hinds. It's not a new song; in fact it was released in 2016, but I discovered Hinds, a garage-rock band from Spain, courtesy of my Discover Weekly playlist on Spotify a few months ago. A super catchy, yet reflective guitar melody hooks you in and the song quickly launches into a chorus about being carefree while maintaining a little bit of a melancholy tone, as expected in a garage-rock song. A perfect song to play to bring in the forthcoming (hopefully) warm weather and the fun that comes with it. I can imagine singing (yelling would be more accurate) along to this song on a road trip or while being surrounded by hundreds of people at a Hinds show.
Movie of the Month: "Spider-Man: Into the Spider-Verse" -Iqra Iqbal
With it's blockbuster release in December and recent Oscar win for Best Animated Feature, "Spider-Man: Into the Spider-Verse" is undoubtedly a masterpiece. Everything about it— the animations, the soundtrack, the plot—makes it an entertaining viewing experience. The movie follows high school student Miles Morales as he tries to navigate his newly developed powers after being bit by a radioactive spider. The movie explores the ideas of a multiverse, through which Miles meets alternate Spider-Man figures from other dimensions. The heroes come together to defeat villain Kingpin, who poses a major threat to the fragment of time. Even for those who aren't fans of superhero movies, this is a must-watch.  
App of the Month: Tide -Arisha Rizvi
It can be hard to stay focused around this time of the school year with the weather gradually getting warmer, spring break near, and for seniors, graduation just around the corner. This month I've been using an app called "Tide" which helps you stay focused while studying or getting a task done. The app has positive daily reminders and soothing sounds, such as rain, ocean, muse, and storm. These sounds help you stay focused and the studying time intervals in the app also keep you on track. One of my favorite parts of the app is the "flip to focus" feature where you have to flip your phone in order to start the focus time and sound effects; this gives you an incentive to keep working on your task and eliminates distractions. This app has definitely helped me keep up with my work and I recommend it especially if you're someone who's going through "senioritis"!
Skin Care Product of the Month: Pixi Skintreatments Glow Tonic Toner -Morgan James
This month I started using the Pixi Skintreats Glow Tonic Toner. It helped clear up my skin and get rid of previous existing scars. It kept my skin feeling moisturized and clean through this bitter month. I highly recommend trying this product out.
Eatery of the Month: Blaze Pizza -Michelle Zhang
My pick for eatery of the month is Blaze Pizza, located in the Dining Pavilion at Woodfield Mall. This eatery allows you to customize your own pizza, and they fire it up right before your eyes. As a result, you are given a fresh-out-of-the-oven pizza: the pizza crust is still crispy and the cheese is wonderfully melted. Not only is the food delicious, the location of Blaze Pizza is also very convenient. Being in the middle of Woodfield Mall, Blaze Pizza is a great place to swing by for a quick bite before resuming your shopping.
Sport of the Month: Basketball -Isaac Goffin
I know it's not March Madness or the NBA Playoffs yet, but considering February is a dull month for sports after the Super Bowl, which happened to be boring this year, what's better to do than to watch some basketball? The NBA Trade Deadline this year was exciting with all the speculation about Anthony Davis; plus there is also rumors about where other NBA superstars will go after this season. In terms of college basketball, the debate about players going to the NBA straight after high school and getting endorsement deals in college was entertaining to listen to after Zion Williamson got injured after his shoe exploded. All of these occurrences has made me more excited than usual as we head towards the end of both the college basketball and NBA seasons.
TV Show of the Month: "Killing Eve" -Futo Wada
Looking for a show with eerie French soundtracks, beautiful European landscapes, and somehow the development of a relationship between an assassin and an investigator? "Killing Eve" is filled to the brim with all of it. "Killing Eve", recently confirmed for a second season, follows the story of a former MI5 officer, Eve Polastri (Sandra Oh) tracking down a brilliant assassin, Villanelle (Jodie Comer). The show lures audiences in with the elegance of Villanelle's murders and captivates with the adrenaline rush of finding out about her– who is she, where did she come from, and why is she committing these murders? The episodes work within a perfect harmony of tension, artistry, and not to mention, Oh's unbelievably natural and humorous acting. The first season is only eight episodes, making it a perfect fit for a weekend binge — which is exactly what I did.