Conant Model UN's second competition helps to build confidence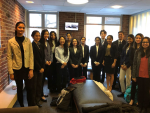 Brandon Jung
Conant's new Model United Nations club competed for its second time on Feb. 2 at Francis W. Parker School, where members had an opportunity to gain more experience with parliamentary procedure and the preparation required for success.
Following an opening ceremony speech from the former United States ambassador to the Czech Republic, the student delegates participated in committees ranging from space colonization to human rights. Each committee has a chair that moderates the debate and at the end of the day, they select whoever they think deserves honorable and best  delegate.
According to Co-President Aparna Ayyah, Parker's Model UN members had more years of experience. Ayyah, '19, said, "I would say this was a successful meet because it gave more of our members a chance to experience a MUN conference and the level of competition at a place like Parker, where the students have been doing MUN since sixth grade, definitely pushes us to do better and keep on improving."
After their second meet, the team has a better idea of what they need to focus on for future success. Co-President Ankit Patel, '19, said, "I believe that we can focus on getting more familiar with parliamentary procedure, and on the preparation before a meet, such as conducting research and writing position papers. This will make the members more confident going into a meet and encourage more participation to help us be more successful in the future."
Model UN Sponsor Vaishali Tajpuria said, "I think they did well. They worked hard to prepare, researching, writing position papers, and finding relevant information."
The club helps students focus on improving their diplomacy and communication skills. Jill Patel, '20, said, "This was my first meet at Model UN, and I was hesitant to put myself out there at first. I hope for the next meet, that I can start giving speeches and interacting with others right from the start. I'm excited to continue to build on my speech and communication skills."
Jasmin Mundi, '21, said she appreciates working as a group. "I joined Model UN to learn diplomacy and how to work with people. One person can come up with an idea, but it takes a team of people to make it work," she said.
With the experience they've gained from the two previous meets, the team hopes to improve at their next meet on April 6 at Glenbrook South High School.