Conant defense stands out in victory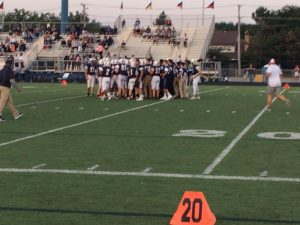 Isaac Goffin | Conant Crier
The Conant defense competed relentlessly throughout Friday's game as they held Bartlett's offense to zero points.
In a 17-2 victory–Conant's first since Oct. 9, 2015–the defense stayed committed as they forced one fumble early in the 4th quarter recovered by Dominic Giannini, '18, and had two drives end in no points when Bartlett managed to get inside Conant's 20-yard line.
One of those drives came down to the last play of the 1st half, where defensive back David Zdzichowski, '18, broke up a pass in the end zone from Bartlett quarterback Dean Kotsovetis, '18.
"They just ran to the ball, they read their keys, they played fast, and they played hard," said Conant defensive coordinator Anthony Donatucci. "That is what a good defense does, they run to the ball and they are physical."
Donatucci credits all players who played on defense for the success on Friday night as he believes a defense has to have everyone working together in order to have a successful night.
Conant coach Bryan Stortz said that Donatucci called a great game for the defense which also led to their success.
Other impressive showings on defense included captain and linebacker Jack Reiger, '18, and defensive back Joey Carrell, '19.
Reiger, a two-way player, scored two touchdowns rushing on offense. On the first drive of the night, Reiger scored a 25-yard touchdown. Later in the game, when the score was 10-0 after a Jessica Smeltzer field goal, Reiger scored a 4-yard touchdown on a 25-yard drive that started when Bartlett snapped the ball over the punter's head in the 2nd quarter.
Other impressive offensive performances included quarterback Matt Majer, '18, who was able to run the ball on several occasions, and running back Brenden Spates, '19, who worked well off the ball by selling the play-action and by blocking.
Bartlett scored their only points of the night after Majer was sacked in the end zone in the 4th quarter, which resulted in a safety. While Bartlett failed to score on offense, they did not give up any points to Conant in the 2nd half.
Bartlett head coach Eric Ilich said, "Conant is a well coached, tough group of kids. I thought we showed our mental and physical toughness tonight and we can build on that."
Conant will have a tough opponent at home next week, Buffalo Grove, who won on Friday 40-7 over Niles West. Buffalo Grove also has 10 returning starters from last year, compared to only two from Bartlett.
About playing Buffalo Grove, Stortz said, "I think what we need to learn is you have to play every play and take advantage of every situation."
See Crier's video coverage of the game below, filmed and edited by Jessy Yang and Babu Sarkar: