Bathroom renovations provide necessary updates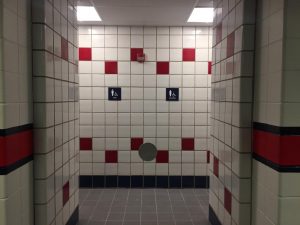 Hannah Blesson | Conant Crier
Conant High School's bathrooms underwent construction over the summer, including motion-sensored sinks and soap, urinal dividers, taller stalls with more discreet doors, and hand dryers.
Along with the updated bathrooms, two new single-stall bathrooms were added outside of the cafeteria, next to the library. "We wanted to add more single-stall bathrooms for students to feel comfortable," Assistant Principal Mark Langer said, "[for those] who don't want the experience of a larger bathroom."
Additionally, some of the men's and women's bathrooms have swapped positions. The new layout depended on the space restrictions. Langer said, "It just worked out better with the existing space restrictions to switch them."
As for the experience of using the new bathrooms, Britney Maldonado, '20, and Gianna Catania, '20, enjoyed the privacy of the stalls. "There were so many gaps before and I would be trying to hide myself," Catania said.
Maldonado added, "They close all the way so there's no peeking or feeling uncomfortable."
The appearance of the renovated bathrooms has improved, according to math teacher Jason Franco. "I feel like it's just a bit more brighter and cleaner-looking, not that it was dirty before, but just dated," he said.
Science teacher Vera Bass said the new bathrooms are conserving more water than the old ones. "You actually get as much water as you need instead of 'I have to hit this again, I have to hit this again' so we're saving water, but you use what you need," she said.
The planning process started with a number of people, including District 211's architect Arcon Associates, contractor Nicholas & Associates, Langer, Building & Grounds Manager Alexander Woods, and Conant Principal Julie Nowak. Input from staff, students, and the community was also taken into account.
The majority of the bathroom construction was completed a few weeks ago, with a few finishing touches made early last week. "For the most part, I would say construction went pretty smoothly this summer," Langer said. "There weren't any major hiccups."
With these recent changes going into the school year, Langer said, "Hopefully people say that this is a really nice school and looks up-to-date and cares about their kids and cares about their community."