BREAKING: Judge's decision requires District 211 to remove mask mandate; Illinois Attorney General to appeal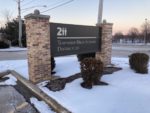 Jessie Hairrell | Conant Crier
In response to a recent ruling in an ongoing lawsuit against almost 150 Illinois public school districts, District 211 schools will no longer require masks during the school day, or mandate the quarantining of students who are identified as 'close contacts' of others who test positive for COVID-19. Students are still required to wear masks on school buses. The order banning mask mandates is currently being appealed by the state's attorney general's office, which could mean a return to mandatory mask-wearing within days. 
The lawsuit first filed on behalf of over 700 Illinois parents in October 2021 targeted 145 school districts in Illinois (including District 211), Governor J.B. Pritzker, the Illinois State Board of Education (ISBE), and the Illinois Department of Public Health (IDPH). The lawsuit ​​questions the legality of mask mandates and the exclusion of 'close contact' students from in-person classes. The parents requested a court injunction against mask mandates and forced quarantine. 
On Friday, Sangamon County Circuit Judge Raylene Grischow determined that the emergency orders given by Governor J.B. Pritzker to institute mask mandates in public schools were an overreach of power, and declared them to be "null and void." In a statement afterwards, Pritzker promised an appeal through the Illinois Attorney General's Office. 
As a defendant in the lawsuit, District 211 must comply with the court case ruling. However, Illinois schools not named in the case are not, as of now, legally required to change their policies.
District 211 Superintendent Lisa Small addressed the change in policy via D211's Communications email alert system:
At this time, District 211 will not require the wearing of masks during the school day nor the exclusion of students as close contacts based on the executive order. Individuals who were close contacts can return to school on Monday as long as they are not experiencing COVID symptoms.
The Centers for Disease Control and Prevention (CDC) still has an order in place requiring anyone on public transportation including school buses to wear a mask. Therefore, masks are required on school buses.
At this time, the Illinois High School Association (IHSA) has not changed its requirements for mask wearing by participants and spectators during indoor extracurricular events.
The superintendent's correspondence also said that the district's local area remains at a high transmission rate according to the Centers for Disease Control. As of February 4, Suburban Cook County recorded 486,392 confirmed cases of COVID-19 in total since March 2020. The area maintains a high community transmission level, and the largest age demographic of COVID-19 cases in Suburban Cook County is people under the age of 20.  According to the District 211 COVID-19 Dashboard, this past week saw 37 new reported cases of COVID-like symptoms among the student population at Conant High School, with 9 students testing positive for COVID-19.
The CDC's recommendation remains unchanged and encourages students to wear masks during the school day in order to maintain their own safety and the safety of those around them. Conant High School and District 211 will continue to follow all other COVID mitigation measures as outlined by the IDPH and the CDC.
The Cook County Department of Public Health, IDPH, and CDC continue to encourage caution and safety measures against COVID-19, including wearing masks in all close social settings.