A Valentine's Day playlist for lonely people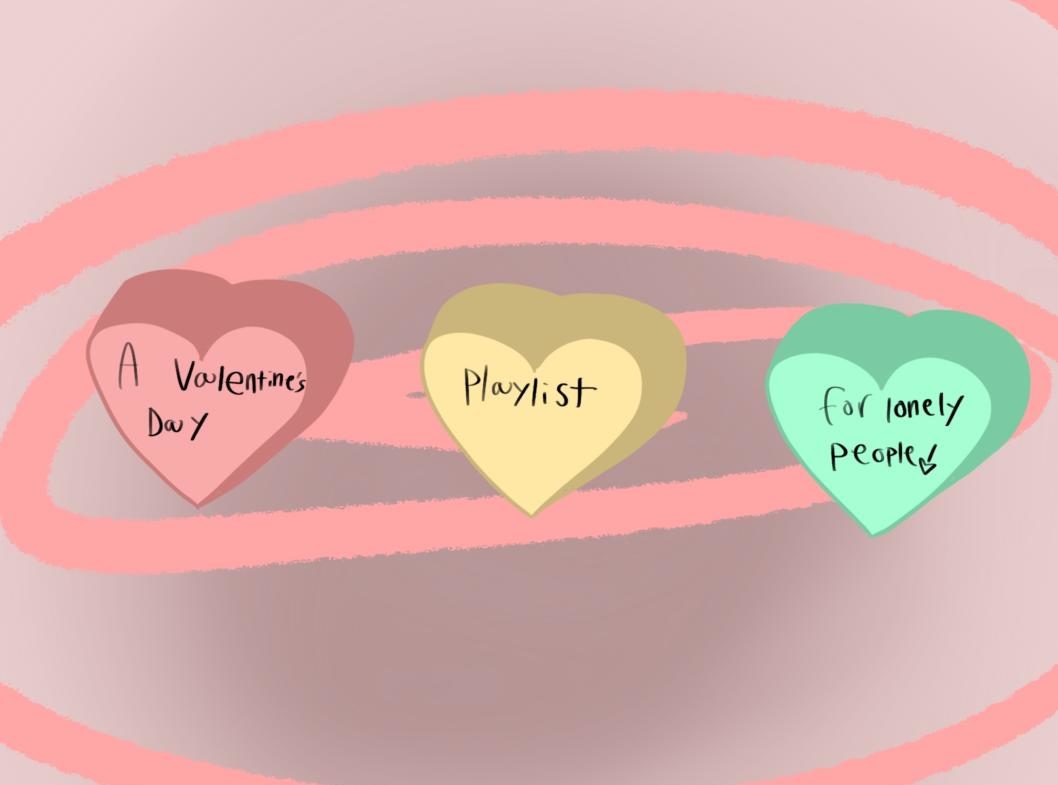 Ashley Chang
The dreaded day, February 14th, is within walking distance, and it seems like everyone is already brewing their sickly love potions and falling faster than a two-year-old learning to skate. Hallmark Valentine's songs are taunting you, spewing out their over-sweetened joy. Gross. You scream internally as everyone around you rubs their passion in your face: it paralyzes your lungs and tears your heart out. When is it your turn to be happy? When do you get to view love as bliss rather than torment?
Don't sweat it. Your chance will come eventually. Until then, you can continue to be a miserable, jealous dork as you blast these singles (just like you!) that range from heartfelt ballads to outright anthems. Whether you're heartbroken or have never even made eye contact with a human before, these songs prove you're not alone.
For the heartbroken:
Valentine's Day sucks, and it's a little extra horrible for anyone who falls into this category. If you are looking to come to terms with your heartbreak, release your anger or sadness, or express your confusion, there is a song in this segment for you.
"Hope She'll Be Happier" by Bill Withers
Withers was a man of a jazz soul, a forgiving heart, and an optimistic mindset. In this song, he expresses the sadness that the end of a relationship has brought him while remaining respectful of the person that has left, wishing them the best in a new relationship. A slow ballad backed by passionate piano, this song reflects the themes of letting go.
Things happen. They can look entirely secure and then fall apart, but that's okay! In this song of self-forgiveness, Ashe takes you through her divorce. While including personal conversations and reflections on the failed relationship, she tells a lighthearted narrative that encourages listeners to move on and try new things. 
Missing someone that broke your heart hurts in indescribable ways. The pain shoots through your heart as you enter a form of denial, telling yourself that you could make things right and fall back into love, even though part of you knows that it's impossible. In this beautiful song, King Princess recounts learning her lesson and acknowledges that her relationship is better over, while explaining that it always takes some time for rationality to kick in. 
"Fingers Crossed" by Lauren Spencer-Smith 
If you want to vent out all your anger or are looking for something to scream along to, Spencer-Smith is your best friend. "Fingers Crossed" is full of vengeful lyrics that take the listener through the journey of a breakup. Whether or not you are as confident about leaving someone, this song will support you until you are. 
"Thank U, Next" by Ariana Grande
We all know and love this song, most of us before we were old enough to even wrap our heads around a relationship. Grande's message is simple and true: everyone in her past has played a role in shaping her.
For the chronically single:     
None of this is new to you. You're used to sitting alone on Cupid's day, staring at the wall and eating a pack of candy hearts. Whether it's because people are scary, you haven't worked up the courage to initiate a conversation yet, or you just don't see anything in anyone, I promise that there are songwriters that relate- maybe a little too deeply.
"People Watching" by Conan Gray
Oh, Conan. This guy has represented hopeless romantics worldwide from the beginning. Desiring a relationship of his own, Gray tells the story of a couple he has observed and expresses his envy of their love in the lyrics.
If you've laid eyes on people, gotten attached, or fallen in love with the idea of them only to be let down, this song embodies your disappointment. Telling the stories of failed relationships and love that never moved past the talking-stage with addicting vocals, Halsey owns being single.
Love is obviously far from perfect, but many forms of it are deceiving and flat out harmful, it feels like they only come to disappoint. There is something in this song for everyone, regardless of how you interpret it. To some, it might bring peace knowing that being in love is like a game of chess. To others, this song may be an encouragement to get out there and try.
"A Sunday Kind of Love" by Etta James
This song is for anyone that desperately wants to fall into true, deep love. A kind that you know will last and be worth your efforts. James has a breathtaking voice that contributes to a flawless experience as she describes daydreaming of finding full love, refusing to settle for anything less.
For those in love-limbo:
Who likes who and why do they? You stand in a pool of confusion on the 14th, but the water is far too cold and you just want out. You feel like you're always caught in the middle of something. "It's complicated" is your catchphrase and you're a walking dictionary that can accurately describe the various "zones" of love. Here are some songs that will sympathize with you while you do all the math. 
"wish i loved you in the 90s" by Tate McRae
In this song, McRae reflects on the idea of loving the right person at the wrong time. Maybe If you built a time machine and went back 30 years to the time of Walkmans, sincerity, and apparently Tickle-Me-Elmo, you'd be happy with the person that's currently the source of your migraines.
"Heaven sent me your love, but it keeps me chained" ("Fresh Roses", Juke Ross). Ross sings passionately, describing the confusion that falling in love brings. As roses need rain but often meet sunlight, Ross ties a metaphor to finding unexpectedly true love after being shaken by prior heartbreak and how it throws his stance.
If you're stuck in the cycle of coming back to someone, making some headway, and watching it all fall apart again, Abrams has written you an anthem. From reasoning in her head, making efforts to reach out to the other person, and coping with the pain they bring; she tells an intricate story in her lyrics. 
"Steal My Clothes" by Kito ft. Bea Miller
In this song, unrequited love and the violation of boundaries are ironically described over upbeat production, creating a catchy song that tailors an important message. Learning to walk away from someone that uses you is difficult, hopefully this song can help you through it. 
This one's for those who are stuck in a situation they shouldn't be in. Reyez expresses feeling obligated to fix someone and the toll that caring for them has taken on her. With raw, captivating vocals and lyrics that flawlessly describe the complexity of the situation, this song easily touches the confused hearts of so many. 
For the optimistic:
You're not going to be lonely forever, or at least that's what you're telling yourself. Here are some happy-ish people, I promise they're not too obnoxious. Looking for future wedding songs? A faint ray of hope? Here you go!
"All Your Exes" by Julia Michaels 
So let's say, hypothetically, that you found the one. What are you to do about the people in their past? Accept that they played a role in shaping your significant other? No! You strategically plot their individual disappearances and eliminate them from this world. In this comical song, Michaels expresses her contempt for her boyfriend's exes and preys on their downfall. Sounds of a running chainsaw and sarcastic lines add to the hilarious and relatable concept. 
So, you've successfully eliminated all of your hypothetical lovers' exes. Next up, get married (or fantasize about it)! Sweet and endearing, Saxe conveys the message that although little is certain in this world, the love he has found is. He has created the perfect wedding song where he acknowledges elements of the past and ongoing struggles that fold their way into relationships. 
"Tu Aisa Kaise Hai?" by Osho Jain ft. Sanchi
Ok, leaving the idea of murder behind, Jain has created such a charming song, which includes lyrics that translate to "I find my home in you/ How?/ How are you like that?" ("Tu Aisa Kaise Hai", Osho Jain). This version, featuring Sanchi, tailors a beautiful story of two individually hurt and flawed people falling into true, worthwhile love.
"Rain" by Grandson ft. Jessie Reyez
Happy endings come in variations, and sometimes the best story ends with just you. Grandson and Reyez portray this flawlessly, stating in their lyrics that beautiful things can blossom out of pain, proving that there is peace in being alone. "I do not mind the rain sometimes/ 'Cause that's the only way the roses bloom" ("Rain", Grandson ft. Jessie Reyez). This song proves there is peace in being alone.
This song just radiates joy and is guaranteed to put anyone that listens to it in a good mood. Ruth's elated vocals fill the soundscape as she expresses the love she finds herself in. I can't speak from experience, but I'm almost certain that this is what it feels like when you find 'the one'.
So, you're not completely alone on Valentine's Day. There are people that relate to you and so much music that can fill the empty space. On the 14th, take yourself out on a date: go to your favorite coffee shop, eat a whole box of chocolates, and propose to a teddy bear. However you're feeling, these songs will enter the pit of despair with you and maybe even pull you out.