Conant kickoff to Mr. Cougar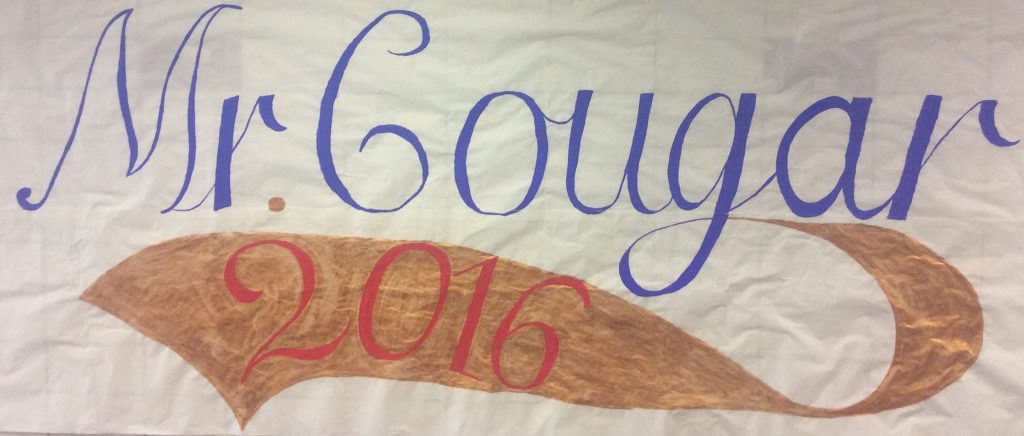 Allison Pariso | Conant Crier
Ready, set, go! Every year Conant hosts an event called Mr. Cougar, a hilarious male beauty pageant featuring 12 CHS seniors. This year's event takes place on Friday, May 13 in the auditorium at 7:30. The theme is Chicago sports, with the decorations and t-shirts containing logos of many Chicago sports teams.
The same student band that played Winterfest–comprised of seniors Johnny Salgado, Nathan Marckeweiz, Vince Savarino and Holden Symonds– will perform at the beginning of the show. The event also includes a group dance and two-minute skits. Participants also bribe judges and perform funny pickup lines.
Students have put up posters advertising for or against the candidates, and emails have gone out to encourage more people to come to the event. Baseball cards featuring the boys picture, name, and a quote of there choice were also passed out on Friday, May 6.  This year, the senior participants are Dylan Drake, Tommy Gosche, Steven Hanks, Ben Hyde, Christian Hyde, Rob McColaugh, Nikil Modak, Dhruv Patel, Harsh Patel, Henry Pelesh, Ebuka Udeogu and Billy Wright.
The title of Mr. Cougar is the ultimate honor and grand prize. The person who wins this title also gets two prom and post prom tickets, as well as a free tux rental, while the runner-up gets a free tux rental. Mr. Congeniality, a position voted on by the boys, goes to the boy who was the nicest, easiest to work with, and the overall friendliest guy in the group. The winner of this title receives senior picnic tickets.
Tickets for Mr. Cougar will be sold during all lunch hours in the concession stand from Monday, May 9 to Friday, May 13. The ticket price is $5, and students and teachers will also have the option of buying a limited-supply Mr. Cougar t-shirt in gray or navy for $10. Sports teams or clubs can buy group tickets–the group must include at least 15 people–and get reserved seating near the stage and even get a ballot to vote for the winners.
Not only does this event provide everyone with a good time, but the money raised goes to a good cause. The proceeds from this event fund scholarships at Conant, including the Rachel Laird and Larry Schroeder scholarships. In future years, the Larry Schroeder scholarship will be paid for by the D211 Foundation. Any money left over from the event will be donated to Cougars in Need and may even help to fund prom.
Mr. Cougar coincides with Junior Class Council's new prom kickoff week. Each day will include a new event and a new costume theme. Monday was dress like a superhero day, and Jamba Juice was sold in the cafeteria during all lunch hours for $4. Tuesday is dress like your favorite sports team day, and junior versus senior girls kickball takes place at 7pm in the gym. Wednesday is dress like a dad day and includes a free photo booth in the cafeteria.  On Wednesday night, students can visit Menchie's and mention Conant JCC, part of the profits going to prom. There is another Menchie's night on Thursday, which is dress like a teacher day. Friday is spirit wear day and will end with Mr. Cougar in the evening.
Students who would like to see the next Mr. Cougar can buy tickets to Friday's event and give back to the Conant community.