Freshmen receive used iPads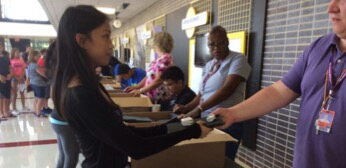 Incoming freshmen rejoice when they receive their brand new school-issued iPad every August. However, the incoming Class of 2020 received the Class of 2016's used iPads.
When the Class of 2016 turned in their used iPads this past May, the school realized they had a surplus of iPads in good condition. Conant High School Technology Coordinator Paul Kim said, "Instead of accumulating all these iPads and letting them just sit around, we have enough to outfit the freshmen and not stretch the budget too much."
Kim said the iPads are in great condition and work just as well with the same software as the newer iPads.
In years past, the Conant Technology Department purchased the newest edition of iPads for the incoming freshmen. For example, the current sophomores were given the iPad Air 2, a more advanced version of iPad Air, which the juniors and seniors have, with features such as side-by-side view and faster software. Some freshmen received the iPad Air, but most were given the iPad 4.
Most freshmen don't mind the change as long as they receive the same programs as the higher classes. Garrett Glennon, '20, said, "It doesn't matter. I'm not worried about my educational experience if it has the same software as every other student."
Although the majority of the students don't mind the change, some do. Ross Pedro, '20, described his iPad as a "brick."
Noticing his iPad's scratches and marks, Pedro said, "I'm used to the newer one which I have at home, and when I got the old one, it was very bland."
Pedro said he prefers the new, fresh feel of the freshmen and sophomores more recent versions of the iPad.
Parent Mary Reyes said, "I'd rather have them receive the same tools that have been successful in the past."
The freshmen iPads will once again be restricted from downloading apps or using iMessage. Freshmen must take a 15-hour internet safety course through Schoology for the restrictions to be lifted next school year.