Freshmen iPad restrictions need rethinking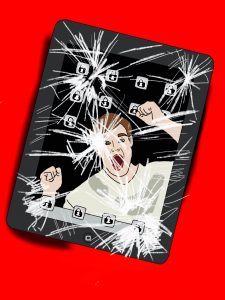 Valeria Vesco
Conant's halls are filled with the moans and groans of freshmen with their still-restricted iPads. Their iPads are restricted to ensure that the students are paying attention in class, but just how effective is it?
Restricting iPads so students don't get distracted–sounds like a great idea, right? Well, if only it actually worked. The blocking system is so inefficient that students can find ways around it to download games. Not only that, but when students actually want to learn and search the meaning of a word in another language, they just get blocked from getting answers. This has happened to me before, where I have looked up the meaning of an innocent Spanish verb and got blocked from it. The blocking system allows freshmen to still play games, but does it allow them to find the definition of a word? Nope. That's off limits.
Now you're probably thinking, well let's just improve the blocking system. However, the more rules and blocked websites you put in place, the more likely the blocking system will block educational websites students can use.
Okay, there are still people out there that believe iPads should be restricted. They argue that unrestricted iPads are extremely distracting. However, it is ultimately the student's choice whether or not to pay attention in class. Most students know better, but of course there will always be a few students that will always choose games over education. To be fair, even before iPads, students were already distracted. All students need is a pencil and paper and they'll start drawing or writing out of boredom.
Most students just want the app store so they can go on apps at home. What's wrong with wanting to watch some Netflix after finishing some homework? A potential solution would be for the school to get a stronger blocking system that high schoolers cannot get around. This blocking system would block all distracting apps and websites during school hours only, without blocking educational websites. This will be difficult, however, because it will take some time to ensure that all distracting websites are blocked, and no educational websites are blocked.
Or, how about a compromise? If a student gets caught playing games or gets caught being on social media a certain number of times, they get the app store deleted off their iPads for the rest of the school year. No excuses.
Last school year, in order for freshmen to unlock their iPads sophomore year, students had to complete what was called the digital quest. The digital quest would hopefully teach freshmen how to use their iPads responsibly in school, after the last freshmen class abused their privileges. Again, sounds like a great idea. But did it work?
The digital quest was only a distraction to freshmen. Instead of working on homework that was due tomorrow, students had to worry about completing the digital quest, which was pretty lengthy. Also, the digital quest didn't teach students how to use iPads responsibly. For example, knowing the difference between copyright and creative commons will not make students stop playing games in class.
Now that most of last year's freshmen completed the digital quest, they can't wait to have their iPads unrestricted. Finally, they'll be treated like adults. Oh, but don't get too excited.
Turns out, at the beginning of the first semester, sophomores who have completed the digital quest will get access to iMessage, FaceTime, and AirDrop. Sophomores will most likely get the App Store junior year.
Waiting over a year apparently isn't long enough to get the iPads unrestricted. However, as students, you have a lot of power, enough to make a change. You can all come together to speak to those in charge about changing the way they restrict the iPads. So, who's going to stand up and do something about it?