Conant football 2016: New year, new team, new attitude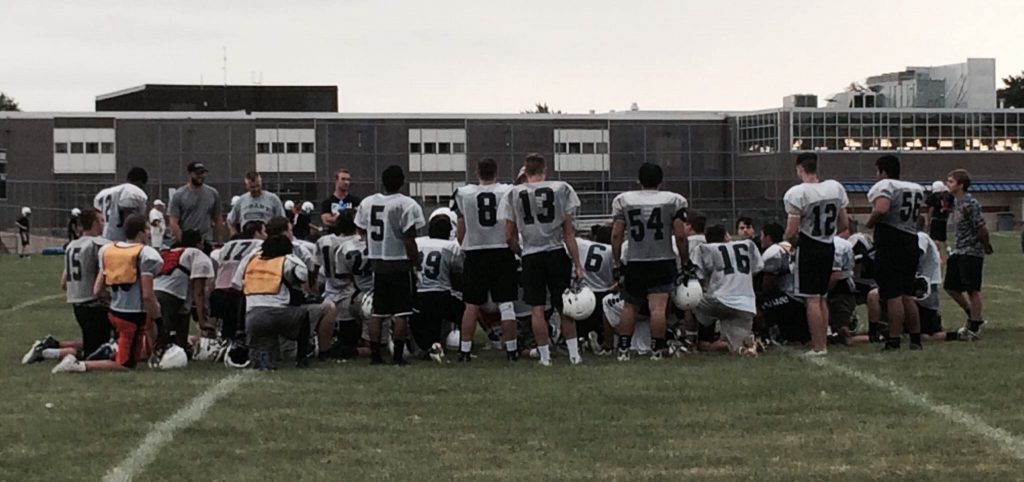 Trystin Lovas | Conant Crier
On a humid Friday in August, a storm was brewing on the farthest practice field behind the football stadium.  Against a dark sky, the Cougars stood alone in their white varsity practice jerseys.
The uncertain weather paralleled another uncertainty–how a very young team would manage a steep learning curve.  After 22 starters and 30 seniors total graduated last year, the team is still seeking its identity, including determining a starting quarterback for this Friday's game against Bartlett High School.  
The search has been narrowed down to two candidates: Brian Modelski, '17, and Matt Majer, '18.
The team has only eight seniors, but has a large number of juniors, many of whom played JV last year.  Brian Modelski has seen some of this youth on the practice field.  "It is mostly memorization. Guys gotta know where they go, what play to run, and what call is coming from the coach. And once guys get that down, it's just hitting. It's just football," he said.
Unlike a college football team, high school teams can't recruit players to replace graduates each year. Coach Bill Modelski's philosophy on how to handle the team is straightforward. "It's the old saying in high school football," Coach Modelski remarked, "the coach gets what comes off the bus. And that's the reality of it."
The team, while young, has clear goals.  Wingback Dan Wozniak, '17, said, "Get better. That's pretty much our main goal, and Coach Mo's main goal."
After two months of practice, with double sessions, Coach Modelski believes, "We have hit our stride now, [we are] figuring some things out, and getting better every day."
Right guard Tim Fauth, '17, is certainly ready for the season. "We have a pretty big tradition to uphold. It's a storied program. I have been waiting all my life to play under the Friday night lights. I got a taste of it last year, but now it's our chance to step up."
As the excitement of the first game against Bartlett builds, wingback Jake Stumpf, '17, is ready. "It's gonna be fun, but it's gonna be hard. I think we have a really good chance of winning."
Editor's Note: This article was published Wednesday, August 24, when the team's starting quarterback had not yet been announced.  Brian Modelski, '17, will be starting against Bartlett High School on August 26.