New-look Winter Fest continues to draw big crowds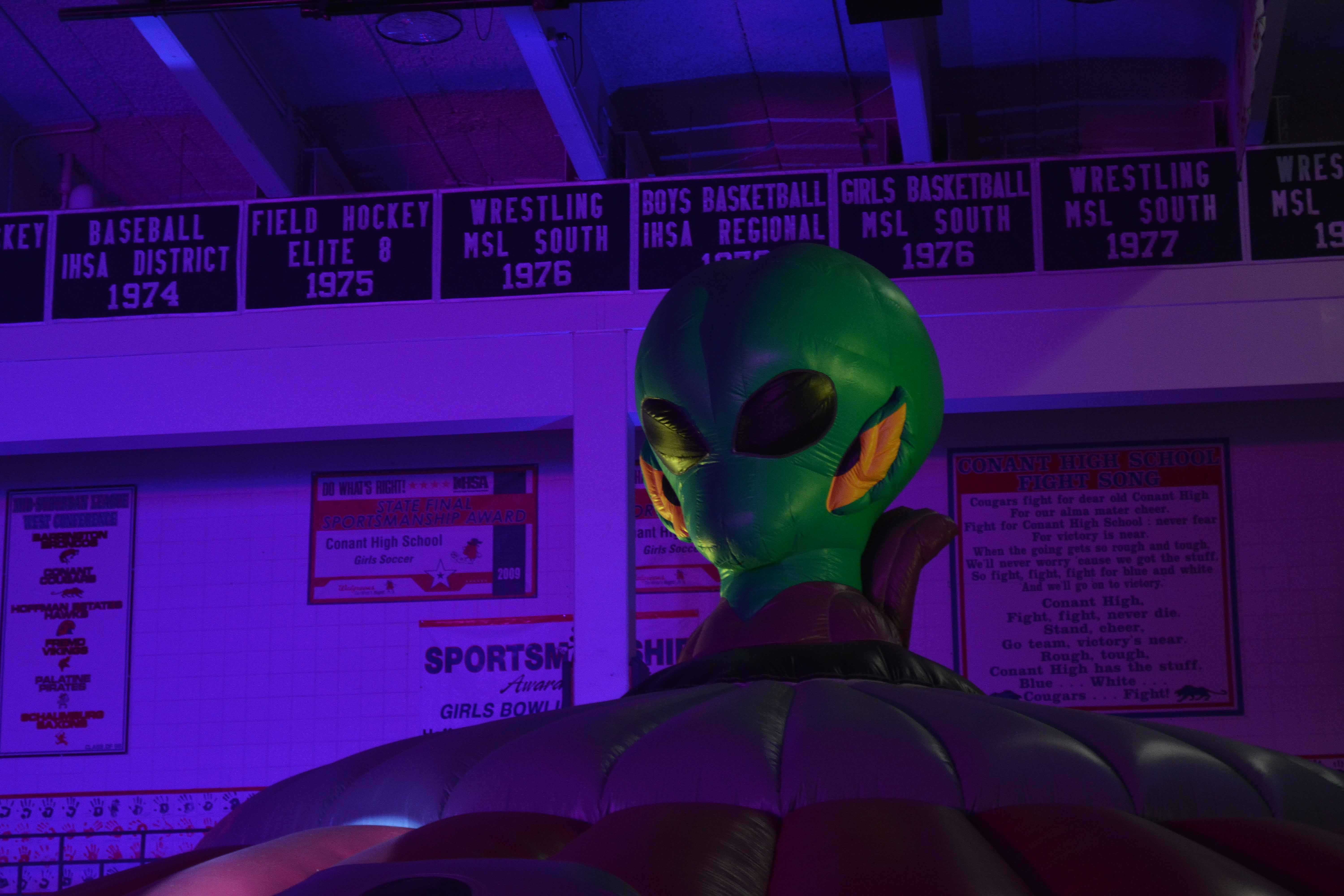 Last year's Great Gatsby themed Winter Fest started a new tradition at Conant, turning the dance into a night to remember. This year's Winter Fest continued the tradition started by Student Council (Stuco), increasing attendance by fifteen percent with some of last year's favorites and a few new surprises. The January 30 dance had a "A Night Under the Stars" theme, illustrated through yellow, gold and silver stars on black paper that covered the hallway walls.
Even bigger surprises were in the gym. At the entrance was an inflated tunnel illuminated by the strobe lights from the stage.
Once inside, students had the chance to compete in an inflatable laser tag arena, dance in a soundproofed second stage and play with giant versions of games like Connect Four and Jenga. There was also a photo booth and an area where people could watch funny videos projected onto a wall.
Daniel Zawadzki, a junior, said that Stuco "pulled out all the stops and tried to make [the event] more than just dancing."
In collaboration with B96, BOOM Entertainment DJed the dance and also had a DJ taking requests at the second stage, which minimized the number of complaints about the music, as had happened at Homecoming.
Johnathan Bekos, a senior, said he liked that people could request what was played at the second stage. Natalie Urban, a sophomore, said that the laser tag arena was "awesome and winning was even better."
Other students felt the long wait to play a short game of laser tag wasn't worth it. Freshman Niva Patel stated that the playing time "was really short, which wasn't fun, especially for standing in such a long line." Alyssa McDonald, a senior, said that she was discouraged from playing because of hearing other students' opinions like Patel's.
Still, Morgan Wessel, Stuco president, said that the photo booth was a "big draw," as there seemed to be a line for it the whole night. Others enjoyed the games, which Stuco sponsor David Moravek said gave people something to do who didn't want to dance or talk with friends.
To get away from the loud music, the cafeteria was available with a lounge area, snacks and a student band. The band consisted of seniors Johnny Salgado, Nathan Marckeweiz, Vince Savarino and Holden Symonds, and attracted a large crowd with their performance. Stuco introduced this new student-DJ element this year, and Moravek said they hope to continue it at future dances, and possibly even hold a Battle of the Bands.
Be sure to check out our photo gallery and video recapping the event!