Principal's Advisory Board discusses changes for this school year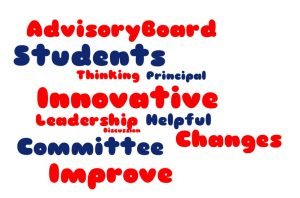 Nicole Brashears | Conant Crier
This year's Principal's Advisory Board looks forward to implementing new changes at Conant in its third year of the program.
The first meeting of this year's Principal's Advisory Board took place on September 12 for the freshmen and sophomores and September 9 for juniors and seniors. The Principal's Advisory Board is a program led by Principal Julie Nowak. Both the freshmen/sophomore and the junior/senior boards meet once a month to discuss the issues of Conant, along with possible solutions.
A main topic at the September meeting was the condition of the bathrooms and locker rooms. Anisha Narain, '18, said one thing she wants to see discussed this year would be getting new towels in the bathrooms, instead of the reusable ones that are currently there.
Changing the paper towels is a long term issue. Nowak talked about helping the students to have a wide perspective. "We're taking into account how a decision impacts everybody," she said, explaining that in leadership, "when you're making a decision that has some costs, [it's important to know] what that cost is shifting away from."
Nowak said a short term issue is the distribution of space in the Media Center. Some students visit the Media Center for a quiet study area, while others enjoy a new social setting. The board is looking for a balance between the two.
Another issue for students is the menu in the cafeteria. The board discussed it and gave Nowak a chance "to meet with our cafeteria staff to consider some adjustments to our menu," she said. "That's an ongoing discussion we're having."
This year's freshman and sophomore board has around 30 students, while the junior and senior board has around 100. Every student on the board had to complete an application process first. Students would answer questions about what changes they wanted to see made at Conant.
Linnea Pietsch, '19, said that the reason she applied for the board was because she wanted to make difference in students' lives. She said, "There were a lot of things that I didn't necessarily agree with, so I wanted to work to change those things."
Nowak read every application, searching for students who not only had interest in being on the board, but students who were "looking outside of themselves."
The purpose of the board is more than just discussing school issues. Nowak explained that this is also a chance to return to her teaching days. She said, "I really try to instill a leadership concept…in those meetings."
Nowak elaborated on how the Principal's Advisory Board benefits both the students and the school district. Nowak said the students can voice their opinions but should also understand that administration is aware but might not be able to fix the issue right away.
The main difference between the freshman and sophomore board and the junior and senior board is the topics they want to discuss. Freshmen and sophomores talk about getting involved, while the juniors and seniors dig into deeper topics. "They're also able to give me a broader perspective because they've been here longer," Nowak explained about the juniors and seniors.
The Principal's Advisory Board was created three years ago. Nowak said she came up with the idea because she was on the board when she was a student.
Nowak started as principal in 2014 and started several new programs including the Principal's Advisory Board, Principal's Parent Network, Teacher's Advisory Committee.