The Crier has most successful year in a decade
With a grand total of 20 awards, the '16-'17 school year has been the most successful for the Conant Crier at state-level competition in the past decade.
In April, the Crier competed at the Illinois High School Association (IHSA) Journalism sectional competition at Downers Grove North High School. Two students qualified for state: News Editor Allison Pariso, '18, and Sports writer Isaac Goffin, '19. At the Sectional, Pariso placed first in Headline Writing, and Goffin placed third in Sports Writing. To qualify for state, the journalists had to place in the top three for their event.
At State, each event lasted 90 minutes. During Goffin's event, Sports Writing, Goffin watched videos as sources for the article. "I watched the last five minutes of a football state championship game from 2014, along with post game reviews and interviews," Goffin explained. Goffin used the remaining time to complete his article, and he ended up winning fourth place in State.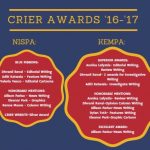 On the day of the State competition, the Illinois Journalism Education Association (IJEA) announced the All-State journalism team, and Crier's Editor-in-Chief, Dhvanii Raval, '18, was one of 11 student journalists to earn this recognition. IJEA chooses journalists who put the publication before themselves.
Raval said, "My work is mostly behind the scenes, and I feel like the position on the state journalism team fits my role very well."
English teacher David Gwizdala advises the Crier, along with assistant adviser and English teacher Asra Syed.  Gwizdala said that Raval was a huge factor in Crier's success this year. "She really took charge and pushed for the Crier to attend all the conferences," he said.
Gwizdala also said Raval kept everyone on the team involved and motivated.
On April 21, members of the Crier won a total of seven awards, including a Silver Certificate for overall website, at the Northern Illinois Scholastic Press Association (NISPA) conference.
The Crier also attended the Kettle Moraine Press Association (KEMPA) Fall Conference in Whitewater, Wisconsin, where the team took home 10 awards, including first place for overall website.
Gwizdala said that although he is happy to see Crier members win so many awards, the weekly work Crier produces is the most important part of the club.  The competition and awards are just part of the camaraderie that motivates the journalists, Gwizdala said.
He also said that future success is not guaranteed.  "In order for Crier to maintain and increase its success," he said, "the student journalists must keep working."