Conant's first ever all-girls robotics team succeeds at STEM competition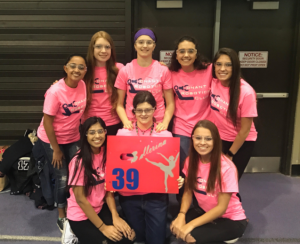 Shayna Adelman
For the first time in CHS history, an all-girls team competed in the District 211 Battlebot Competition. The team consisted of Anjali Patel, '17; Sarah Kenkel, '17; Hailey Schimpf, '18; Victoria Schimpf, '20; Mia Snaidauf, '17; Gianna Mizzi, '17; Priyana Kumar, '17; and Molly Guagenti, '17. Their task was to build a fighting robot under 85 pounds and defeat other robots. The all-girls team worked tirelessly for five months, creating the Ballerina Bot for the robot tournament on February 3 and 4. Though they did not win the entire competition, they won their first round and were the most successful of the three teams from Conant, Kumar explained.
Struggles as a female in STEM
Even though the CHS all-girls team was successful, success in the STEM field is uncommon for girls. Kumar said, "When we got to the competition, a lot of the other [male] teams laughed us off but didn't realize that 'girls' could make a better robot than they could."
Many girls today struggle to be recognized in STEM fields and often have to prove themselves before they get taken seriously.
"I think girls tend to stray away from engineering careers because they are told 'they can't do it' or 'they shouldn't do it,'" Guagenti said. "By succeeding and being on this team, we proved the girls are just as capable as boys, and that is a great accomplishment."
Despite the old-school stereotypes girls face, robotics coach Shayna Adelman pushed the team to do their best.
The woman behind the scenes
Adelman entered teaching and coaching with a dedicated mindset. "My senior year of college, I was the drum major of my school's student-run marching band. There was no better feeling than seeing the band work hard, get better, and achieve success when game day arrived," she said. "[I wanted to] help my students learn and prepare them for successful futures. Seeing the pride in their successes, that's the best part of my job."
Adelman is the only female robotics coach at Conant and inspired the team to stay persistent with their robot and STEM in general.
"It is a little weird, but I'm kind of, unfortunately, used to being the only female," Adelman reflected. "I'm happy to represent women in that area, and hopefully, there will be more women in the future."
"Mrs. Adelman's a great teacher, and she was a really great coach. She helped us work through some tough problems and kept us on track when we were trying to build," Schimpf said.
Adelman also reflected on how coaching the all-girls team was different from regular teams. "The all-girls team was a lot more consistent about showing up and looking at their to-do lists to get things done."
With Adelman's experience with students, she felt that she had to worry less about the girls. "Essentially it's the same [with both genders]," she said, "but girls do tend to have a different outlook on things."
Robotics coach and physics teacher Christopher Bruce said, "The students put in a ton of time and came together as a great team to get everything done."
He also said that Adelman "has a never-ending supply of energy and always makes sure that the students have a good experience, no matter what they are working on."
Not only is Adelman the only female robotics coach, but she's also the only female engineering teacher at CHS. She said, "I feel I've been pretty lucky in that I've had great coworkers and teammates that treat me just like anybody else."
She says she hopes to pass down her knowledge to girls in STEM. Her goal is getting more women in STEM. "Getting more girls into the STEM field was not an original reason for becoming a teacher, but it has become a focus for me," she said."[Being the only female coach and engineering teacher] does give me the opportunity to be a role model and empower girls at the school and elsewhere."
The future for women in STEM at CHS
Kumar hopes to continue her STEM career and said, "Something that motivates me to pursue a STEM field is wanting to break down that masculine barrier and prove that women belong."
For Guagenti, it's as simple as having an interest in science, engineering, and math.
Despite current social standards, Guagenti said, "All that matters is if you love your job, and if you work hard, you will succeed at anything you put your mind to."
Adelman explained, "We need to have programs like the all-girls robotics team to encourage more girls to pursue opportunities in STEM and prove to everyone that girls can do just as well, if not better than the boys."