The Winter Showcase: a student-directed Conant Theatre production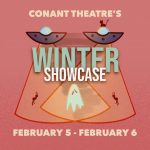 Provided by Conant Theatre

What does a family performing Hamlet in a tornado, a trio of friendly ghosts haunting a theater, a little boy who loves killing bugs, and a pair of cats taking over the United States government have in common? They are all plays being performed by Conant Theatre at this year's Winter Showcase! In a fully digital rendition of four short plays, each directed by a student, all are welcome to have a couple of laughs and watch the production on February 5th and 6th. 
The plays have been completely filmed and edited before their premiere, with the cast utilizing green screens in order to convey the illusion of performing together. The editing crew has spent the past two weeks refining the multiple takes and perfecting the shows in order to present a polished final product to viewers.
Benjamin Jones, Winter Play Director and English and ESL teacher, explained the significance of the plays being performed in spite of the difficulties that came with COVID-19 restrictions. "Theatre is as much a state of mind as it is a place. The stage for theatre is important, but it's really the performances and growth and experience of sharing the art and putting together a play that's the reality of theatre. We can do that wherever we need to."
Adya Verma, student director of "Shine a Light," discussed some of the challenges she had to face in her leadership position. "One of the hardest things about a virtual show, which never occurred to me, was getting the cast and crew to bond. It was really hard to feel the same connection and camaraderie you do with a normal show." However, that quickly changed as filming concluded. "I could really feel their connection and bond," Verma said. "Their improvement and ability to adapt was on full display, and they did amazing."
Although students couldn't see each other in person, they were able to support one another and build a community over Zoom. The synergy of each cast is palpable in every show.
"Them/Us" is special because this show was made to be done during the pandemic," Charlie Holcomb, student director of "Them/Us," said. "It's weirdly existential, and looks deep into the question of 'what do we do when we no longer have a purpose?'"
Indeed, all of the plays in the winter showcase were made to be performed while in quarantine. They were planned to have flexible elements so they could be done using theatre of the mind, digitally, or some sort of hybrid option. This made the difficult process of transforming live theatre to fit the screen just slightly easier. 
"As someone on the film crew," Reyna Parayno, student director of "Grandma Buddy," said, "I can definitely say that filming and editing have been a challenge to figure out and execute during this production. It's a lot different from editing the musical because everything was done online."
The abrupt transition from the hybrid filming of this year's musical, "Freaky Friday," to the winter showcase was jarring for many individuals. Editors like Parayno had to work through individual filming errors, audio difficulties, and a heavy time crunch while stuck at home. 
Alec Bohman, student director of "Space Cats," perfectly encapsulated why everyone should get tickets to see the virtual premiere. "I mean, look in your couch. You probably have eight quarters somewhere. Tickets are two bucks, what else are you gonna do? This is an option that supports your fellow students, and it's a fun time!"