D211 schools experience parking-lot thefts
Throughout the past month, there have been a string of thefts in the parking lots of schools in the area. Specifically, catalytic converters have been stolen from parked cars at Rolling Meadows High School, Hoffman Estates High School, and Harper College.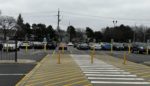 Dev Patel | Conant Crier
A catalytic converter is an emission control device that silences the noises from car exhausts. These parts are valuable as they are easily cut off and lucrative to sell, due to the precious metals inside. People have been cutting these parts off parked cars. According to the Arlington Cardinal, the Harper College Police Department stated that suspects have been seen cruising school parking lots in a black Dodge Charger with tinted windows. 
According to Detective Matthew Teipel, the Police Consultant at Conant High School, if a student sees or hears anything suspicious in the school parking lot, they shouldn't approach the suspect. Instead, they should go inside and alert the school resource officer. It is important that students say something to a staff member if they see any sort of suspicious vehicle or activity in the parking lot. Another way students can do this is by going to the "Report a Safety Concern form" on the school's website or iPad app. 
There are two ways that students can protect themselves from these thefts. According to the D214 & D211 School Police Resource Officer Teams, students can go to a dealership to inscribe the converter's serial number on the part. If the thief goes to resell the part, a mechanic shop can identify that the part is stolen. 
In addition, students that drive to school can back into their parking spot. This makes it harder for thieves to get underneath the car and remove the part. 
Students and community members can reach out to Officer Teipel at [email protected] with any questions regarding safety in the parking lot.