The lives of thousands can lie in the hands of ONE vaccination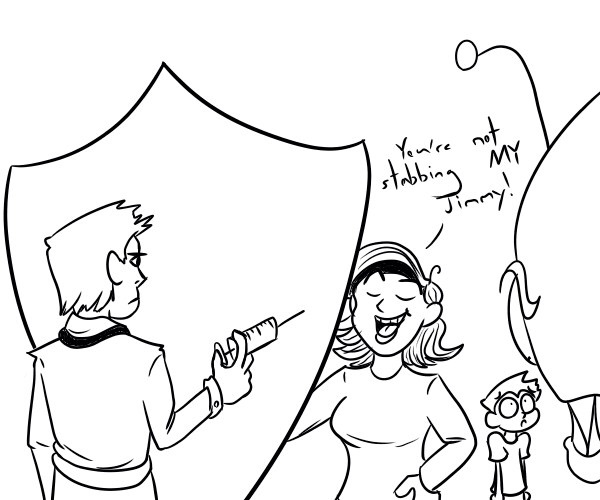 Caitlin Eder
If you've been keeping up with the news, you've probably heard about the measles outbreak at Disneyland, where over 90 people have contracted the virus. You've probably also heard about the case in our own District 211 area, at a KinderCare Learning Center in Palatine, where at least 8 people (2 adults and 6 infants) have become ill with the virus.
Examining the Disneyland case further, health officials said that only one unvaccinated woman went to the theme park, where she spread it to 26 people, who have passed it on to others. In Palatine, all of those who became ill were unvaccinated. These two very recent cases show us that it is very important that all of us, especially children, are vaccinated, in order to keep ourselves and those around us safe.
All parents want what is right for their children. To keep children safe, they buy baby gates and car seats, but what all parents should but don't always do is vaccinate their children. Some parents avoid vaccination because of the risks that come with it, such as headaches, fever, sore throat, or joint pain.
But most of the time, vaccination is very safe and effective. Vaccines are only given to children after a long and careful review by scientists, doctors, and healthcare professionals. Sure, vaccines involve some discomfort and may cause pain for a short time, but this pain is minimal compared to the trauma of the diseases these vaccines prevent. The disease-prevention benefits of getting vaccines are much greater than the possible side effects for almost all children.
Parents who are hesitant to vaccination argue that they have the right to do what they wish for their children. Some parents believe that while their children are not vaccinated, their children will not be harmed because of other parents who choose vaccination. This assumption is false. When people don't vaccinate their children, they increase the risk for those in the population who cannot be vaccinated, such as infants under one year of age, people with weak immune systems, and cancer patients.
In an article posted on CNN.com, Tara Smith, associate professor of epidemiology at Kent State University said, "Right now, what we're seeing a resurgence of, besides measles, is whooping cough, which is especially deadly in infants who are too young to be vaccinated. So, you are not only putting your own children at risk but potentially putting others in the community at risk from that." So why put your own child and others at risk? It is not right for parents to endanger other children who are unable to receive the blessing of a vaccine.
Many parents are hesitant to vaccinate their children due to the side effects that come with it. According to the CDC, vaccines do come with some side effects. Several mild problems have been reported within two weeks of getting the vaccine such as headaches, upper respiratory tract infection, which are present in about 1 out of 3 people; stuffy nose, sore throat, joint pain (1 in 4 people), abdominal pain, cough, nausea (1 in 7), diarrhea (1 in 10), and a fever (about 1 person in 100). More serious problems have been reported by about 1 person out of 100, within 6 months of vaccination. These problems include: blood in the urine or stool, pneumonia, and inflammation of the stomach or intestines. These problems, while they sound serious, don't occur in every child. But yes, there is a chance that it will occur in one child out of a few.
People say that vaccines are 99% effective, so there is always that 1% chance of contracting the disease it was intended to prevent. Like anything in the world, there will never be that 100% guarantee we all look for. Nothing is absolute. There aren't many reasons not to vaccinate a child. The chance of the vaccine not working is extremely low.
It took one unvaccinated woman to start an outbreak. Just imagine how many fewer people would have been exposed to the illness if she had been vaccinated. It's better to be safe than sorry.
Recently, the Conant administration has been sending home more students with flu-like symptoms than usual. In early February, principal Julie Nowak sent out an email to teachers to ask them to remind students to wash their hands.
True, many students cannot afford to miss a day of school. High school is a time when, if one day is missed, a student is in shambles trying to understand missed lessons and making up quizzes and tests. School is essential, but so is health. Missing one day is not as disastrous as it once was, especially since schools now provide iPads where everyone is connected and homework is posted.
Although vaccines have a few drawbacks, they certainly come with even greater benefits. Vaccines were not created to harm anyone; they were created to protect. We can even see that happening now when even those who are anti-vaccine are getting vaccinated because of the fear of disease.  For the safety of our society, parents need to stop all the anti-vaccine protests and vaccinate their children. Let's start now and educate each other about the importance of vaccination.
Tweet us @ConantCrier with #CrierOpinions to let us know what you think about vaccinations, or comment below!