Football hopes team identity carries into next season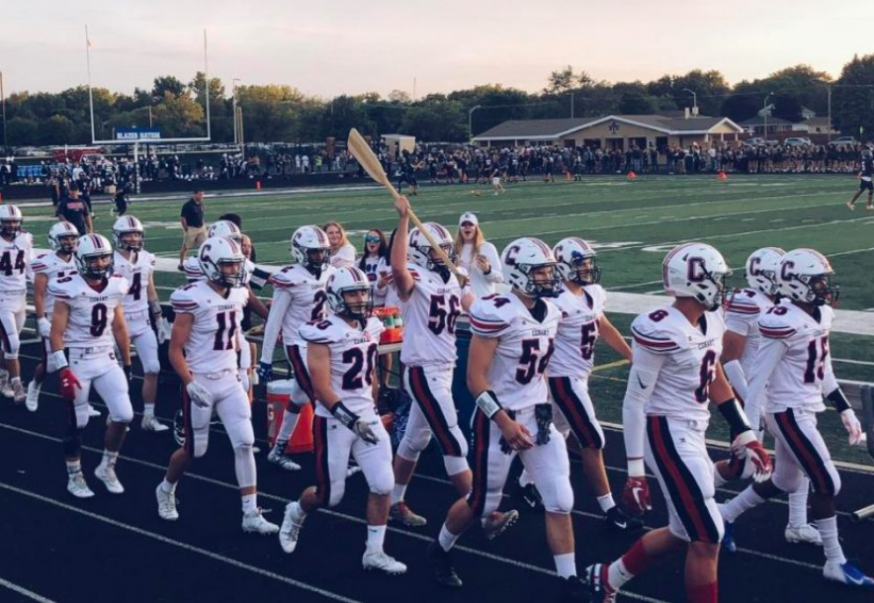 Tina Hristova | Conant Crier
Despite losing their final four games after winning their first six, the Cougars football team aspires to be winning playoff games next year with the help of a clear team identity, a philosophy anchored in success, and the return of their explosive offensive weapons.
"Conant! High! Fight! Fight! Never Die!"
This year, the team exemplified the opening phrase of the Conant Cougar chant.  
Firing on all cylinders to start the season because of the team's hard work and intensity during the off-season, the Cougar's offense, defense, and special teams proved Conant's dominance early. 
Going undefeated for six games is tough in the MSL division, but not only did Conant accomplish this, they outscored their opponents by an average of 22 points.
Rushing for 13 touchdowns while accumulating 1,324 yards was All-Conference and All Area running back Malik Frederick, '21. 
Frederick, accompanied by the rest of the Cougars rushing attack, allowed the Cougars to come out of the gate in electrifying fashion. 
The Cougars' undefeated streak came to an end with a nail biting defeat to regional rivals Schaumburg, along with two more close losses to Fremd and Palatine, ending their regular season 6-3. 
After losing starting quarterback Dugo and outside linebacker Reiger to injury, the Cougars limped into the playoffs ranked 22nd up against an immensely talented 11th-ranked Neuqua Valley. The Cougars lost, ending their 2019 season.
Though just his third year at Conant, 20-year veteran head coach Bryan Stortz knows every victory is the product of a clear team identity. 
He looked to inspire his team by using the themes described in "The Art of War" by Sun Tzu. Stortz created a philosophy for success. Toughness, Heart, Effort, Attitude, Respect, Teamwork, Ownership, and Family shaped Conant football.
Completing the acronym was the phrase We Are Relentless. Not only were the Cougars ready to play football, Conant was prepared for an all out war. 
Further motivating the Cougars was the term "11 Strong." Such a mentality, Stortz hopes, will encourage his players to be strong-willed and never back down when faced with adversity.
"1…2…3…Fly the Boat!"
This was how the Cougars would break their huddles before every play and after every practice. 
"Every year the kids come up with something different to go with 11 Strong," Stortz commented. "This year they felt the popular belief was that they weren't going to be very good. They wanted to prove everyone wrong. They came up with the idea of 'flying a boat,' an impossible task which they were gonna make possible." 
After each Cougar victory, a winged oar was hoisted up in triumph.
The events of the season have only increased expectations and anticipation for Conant's 2020 season. 
Senior captains Reiger, Williams, Lewandowski and Pedro are all substantial losses to the team. However, Stortz isn't worried, saying, "11 Strong is about the "next man up" mentality…making sure [next year] to focus on every drill and every play." 
Stortz went on to praise senior backup quarterback Matt Botello "to be able to go into the Palatine game and not only perform but, give us a lift, it shows a lot about not only his character and preparation, but the team's as well." 
Further showing the Cougar's resilience, Stortz also mentioned seniors Kyle Prodzinski and Ross Pedro. "Both those guys had to play new positions they may not have liked or were familiar with," Stortz said. "To be able to make that sacrifice for their brothers, and to be able to excel the way they did, our team would not have been able to accomplish what it did without them." 
While drawing inspiration from the principles of "The Art of War" and 11 Strong, Conant Football hopes to maintain a clear team identity. Using these mentalities, Conant Football is already one step closer to success.