PREVIEW: Conant soccer against Barrington in Homecoming game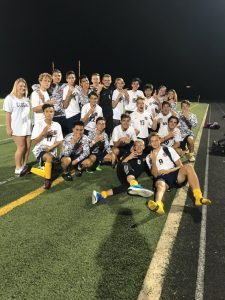 Twitter/Courtesy Conant boys' soccer
On Homecoming, Oct. 6, Conant boys soccer will take on MSL West division champions, the Barrington Broncos.
The Broncos are starting the season off fresh, with Barrington coach Scott Steib saying his team is not thinking about the three games against the Cougars last year, including an Illinois High School Association (IHSA) 3A state semifinal win over them.
"Every season, we approach the season from the very beginning so that this team can avoid any comparisons to last year's team. So, from our perspective, we won't have this season's matchup with Conant to be connected to last year's," Steib said.
The Cougars know that this will be a tough matchup. Conant coach Jason Franco said an advantage is that the game is on Conant's Homecoming and that Barrington already clinched the division, meaning they don't have to win this game to affect the standings.
A Barrington player to watch is forward Klaus Pallan, '18, who scored 31 goals last year.
Both coaches agree that he's one of the best goal scorers in the state.
Franco also added that playing a team like the Broncos will help them get prepared for the IHSA playoffs, which start on Oct. 18.
In terms of strategy, the Cougars are looking to play at the same high intensity as the Broncos.
"We have to be solid defensively, limit Klaus as much as possible, then we have to be even with our physicality and toughness, as that's the edge they normally bring," Franco said.
The game starts at 4:45 on Friday and will be followed by the Homecoming football game against Schaumburg at 7:30.