Humans lose connection with real world, one app at a time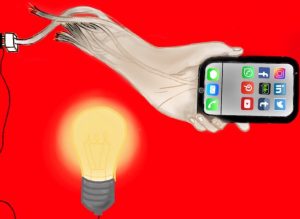 Mauli Patel
For several years, it has been a running joke that robots could take over the world. That joke is slowly becoming reality as humans hand their lives over to their smartphones. Franchises are beginning to go mobile, including restaurants, banks, drugstores and more.
McDonald's recently announced their plan to go mobile, currently creating an app that will allow customers to both order and pay for their food before they even step through the door. Despite usually being the leader in the fast food industry, McDonald's is not the first company to go mobile. Other companies such as Subway, Chipotle, Domino's and more, already have apps featuring the same functions. Since it has been nearly 80 years since the drive-thru made its debut, people were bound to come up with a new idea to feed their constant sense of urgency. More than just that, it's another way to avoid human contact
Although these apps may be the quicker option, they are also the reason for customers becoming high maintenance. For example, Subway's app actually allows people to place an order and pick it up within 15 minutes. As a result, this new technology has become a contributing factor in why customers are growing more expectant. If fast food chains fail to continue to build off these apps, then they will be considered to be falling behind and their once loyal customers will grow impatient. Technology is instilling this negative expectation that everything will come with the snap of your fingers.
Restaurants are not the only establishments that have also added a mobile feature. According to http://www.americanbanker.com, banks such as American Express, Bank of America, Capital One and several other companies have now made it possible for a person to access their bank account and also purchase items all through their phone. Not only is this a bad idea due to the fact that it is much easier for a burglar to access your account, but it also is yet another development that leads to the loss of important human traits.
As technology continues to advance, humans begin to lose touch with once necessary life skills, such as verbal communication and face to face contact. According to http://www.digitaltrends.com, "[USA] was far and away the highest consumer of monthly data, spending the most time per day on their phones with a staggering 4.7 hours. Considering that the average American is awake for just over 15 hours a day (seeing as we sleep for an average of eight hours and 42 minutes), this means that we spend approximately a third of our time on our phones." This number has increased drastically over the past few years, from only 1.5 hours in 2011. With hundreds of new apps being added every month, people are given more reason to spend time on their phones. Because of this, nobody feels the need to actually have face-to-face conversation with someone when they could just send them a quick text and finish the conversation in half the time.
More companies continue to convert to a mobile platform, which is a direct correlation with the increasing amount of time spent on phones. The more humans continue to become dependent on technology, the closer we come to total robot domination.