Conant Video Day moves to before Thanksgiving Break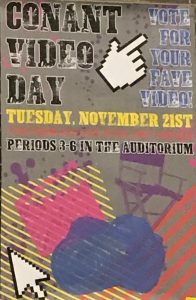 Conant Video Day is now on Nov. 21 instead of before Winter Break. This change was due to the switch to a collegiate calendar last year.
Art teacher Justin Bickus said, "Due to finals being moved up to before break, we decided to move video day to before Thanksgiving since we could not host it during finals week but still liked the idea of it being before a holiday weekend."
Video Day is a day where students can watch peer-created videos during all periods in the auditorium.
Bickus said, "This year, students from all of the D211 schools could submit films. The ones that were selected to show were judged on criteria to decide winners."
The videos fall into the categories of Cinematography, Story/Writing/Narrative, Best Production Value, Most Original, Best Motion Graphics or Animation.
The date change limits the amount of time students will have to make the videos.
Bickus said, "Students lose a few weeks to work on films; however, it also encourages students to film earlier in the fall before it starts getting cold, and in some ways that gives us a bit more variety in the types of films being made due to more options with outdoors for filming."
Student participants in Video Day have mixed reactions to the change.
Jeffrey Pagels, '19, said, "A con is a lot of people are going to miss it, including me. I personally dislike because this year I'm on vacation during Conant Video Day so I wouldn't be able to watch all the amazing videos in it."
Babu Sarkar, '19, said, "Pros of the change are that it gets the filmmaker on their feet and gets them used to high pressure work environments. Another pro is that audience has a great way to start their Thanksgiving Break."