'Clouds' is authentic and bittersweet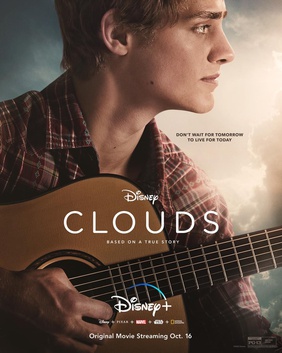 Movie poster under Fair Use
Zach Sobiech was diagnosed with osteosarcoma, a rare bone cancer, at the age of 14. By the time he turned 17, he had undergone 20 rounds of chemotherapy. When doctors told him his cancer was no longer treatable, Sobiech was determined to make the most of his senior year and uploaded his song "Clouds" with childhood friend Sammy Brown on YouTube. 
It became a viral hit. 
Named after the hit song, "Clouds" tells the story of Zach Sobiech's (Fin Argus) last months and the cast did an amazing job portraying the story, making the movie authentic and bittersweet. 
Director Justin Baldoni first met Sobiech when directing his episode of the YouTube series "My Last Days." After growing close to Sobiech and his family, Baldoni promised to continue to tell Sobiech's story after his passing. Keeping his promise, Baldoni directed and produced "Clouds", staying true to Sobiech's life by keeping his loved ones involved and successfully capturing Sobiech's essence. 
As Baldoni promised, the movie successfully told Sobiech's story. Argus played Sobiech so well that friends and family visiting the set believed they saw Sobiech again. Childhood friend Mitch Kluesner said, "He looked so much like Zach, which made it feel like I had unexpectedly run into someone I hadn't seen in a while. Then when he started talking, it's like "Of course it's Fin," and I snapped out of it, but it was a bit jolting." 
Through Sobiech's story, we realize the need to live life to the fullest. We don't realize how precious and short life truly is. We always take tomorrow for granted, something the movie addresses by quoting Sobiech himself. Sobiech said, "Most teenagers out there feel like they're invincible. Not the Superman kind of invincible that tricks you into thinking tomorrow might be a better day to start chasing your dreams." 
The movie included many aspects of Sobiech's life. The bedroom set was based on Sobiech's real bedroom and Argus used Sobiech's crutches. Around 70 of Sobiech's friends and family made cameos in the movie. The amount of work put into incorporating Sobiech's own life into the movie showed how powerful Sobiech's story was to the director. This, in turn, made the movie more authentic as it showed that Sobiech made an impact on everyone working on the movie.
While the movie is named after Sobiech's hit song, many of Sobiech and Brown's (Sabrina Carpenter) songs were included. Argus and Carpenter were able to show the context and true feelings behind "Fix Me Up", the first song they wrote together. 
Hearing the pain in Carpenter's voice, viewers sympathize with Brown as she watches her best friend fall in love with someone else as she sings, "Smile with me and cry with me/I won't ever tell a soul/Hold my hand/I'll squeeze it back/And I'll never let go" ("Fix Me Up", A Firm Handshake). 
Bittersweet and inspirational, "Clouds" successfully accomplished its goal of telling Sobiech's story. In fact, "Clouds" hit the top of the iTunes chart for the second time on Sunday, October 18, over seven years after Sobiech's death. The song hit the top for the first shortly after Sobiech's death. 
The profits from the downloads go directly to the Zach Sobiech Osteosarcoma Fund, which funds research for better treatments for this cancer. Receiving positive reviews from Common Sense Media and The New York Times, the movie resonated with viewers and accomplished what Baldoni and Sobiech hoped. 
Sobiech stated, "I hope my story makes everyone realize that you don't have to find out you are dying to start living."