Mulan Fancast: Disney's newest live action princess
Mulan. The 1998 Disney movie portraying the story of a Chinese woman who enters the army disguised as a man in order to take the place of her father is back. Disney recently bought a script for the live action version of Mulan which essentially guarantees that it will be appearing on the big screen in the near future. Although Disney has not publicly announced a cast and little is known at this point, many fans have begun to predict who will portray some of Disney's most beloved characters in the soon-to-be live action Mulan.
Mulan
Mulan should be played by Zhang Zihi. Zihi is an actress who has appeared in numerous movies, usually playing the role of a fearless Chinese warrior. In House of Flying Daggers she had to battle for her life while the Tang Dynasty fought for control over China. She is beautiful and looks very much like many think real life Mulan will. As an added bonus, she is Chinese and most likely has knowledge on some of the Chinese traditions and morals present in Mulan.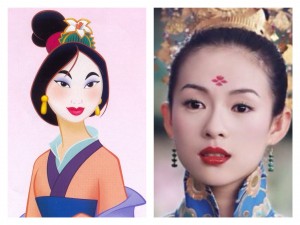 Li Shang
Li Shang is the hunky Chinese warrior that ends up falling in love with Mulan. The lucky guy to play this role should be Godfrey Gao. He is an actor that debuted in the American film industry through the very famous Mortal Instruments movie as Magnus Bane. There are multiple reasons why  he is perfect to play the part of Li. First off, he is good looking and very muscular just like Li. Additionally, Gao has already played the role of the "tough guy" in the movie Volleyball Lover. In Volleyball Lover, he was younger and a bit less scruffy and strong, but now that Gao is older, he resembles the strong, athletic Li even more.
Shan Yu
David Lee McInnis would be great for the part of Shan Yu, the frightening antagonist in Mulan. He is an American actor that has done a handful of films and TV shows such as Mortal Kombat and Hawaii Five-0. One of the strongest cases for McInnis besides his reputable acting is his eyebrows. In the animated version of Mulan, Shan has some crazy thick eyebrows that are difficult to match, but McInnis has eyebrows that carry that same dynamic factor. McInnis is also tall and muscular, so he would have the same threatening appearance of Shang. With his intimidating facial features and some added makeup, McInnis could very easily assume the role of Shang Yu.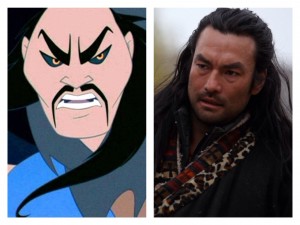 Mushu
Last but not least, we have Mushu, the funny and vibrant sidekick dragon whose voice is that of Eddie Murphy. Obviously it is only right that he have the voice of Mushu in the live action film as well. But aside from that, Murphy has that perfect sassy, crazy voice that is crucial to giving life to Mushu.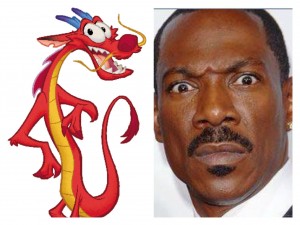 Numerous sources report that it can be assured that Disney will release a live action Mulan. The Hollywood Reporter said, "Disney bought a script by writing team Elizabeth Martin and Lauren Hynek that centers on the Chinese legend of Hua Mulan, the female warrior who was the main character in Disney's 1998 animated film." The logical reason that Disney has purchased the script is due to the fact that they have been on a roll with their live action movies. They have released both Cinderella and Maleficent recently, as well as Alice in Wonderland a few years back. It is also rumored that Beauty and the Beast is in the making along with The Jungle Book and Dumbo. Although Disney's future plans are unclear now, rest assured that whatever Disney has in store will definitely be loved for years to come!