A cheesy classic with a twist
Baking a delicious dessert, while fun, can certainly be time consuming. Luckily, this twist on a classic cheesecake can be made in a matter of minutes. And since it is a no-bake recipe, there is no hassle of putting it in a steam bath or worrying that the top layer is cracking in the oven. Your friends and family will adore this fun and easy recipe!
Prep time: 30 minutes
Bake time: NONE!
Makes: 8 8oz. glasses
Ingredients:
Base
– 2 cups graham crackers
– 3 tbs. butter
Cream
– 1 ½ cup heavy whipping cream
– 2 16 oz. cream cheese packages
– 2 cups confectioner's sugar (depending on how sweet you like it, you could adjust the amount)
– 2 tsp. vanilla extract
– chocolate chips (optional)
– ½ cup baker's chocolate (optional)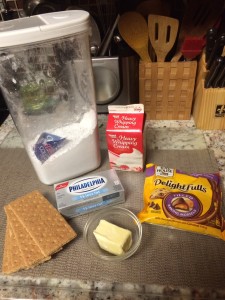 Meenakshi Dhamija | Conant Crier
Procedure:
1. Microwave the butter in a small bowl for approximately 10 seconds. Make sure it doesn't burn!
2. Grind the graham crackers in a food processor or by hand, until it's very fine and has a sugar-like consistency.
3. Mix the melted butter and crackers until it looks like wet sand, then distribute into glasses evenly, compacting it at the bottom of the cup.
4. Whisk the cream cheese in an electric mixer for 5 minutes, or until there are no lumps.*
5. Slowly add the heavy whipping cream and confectioner's sugar while whisking the cream cheese. Alternate between adding a little bit of cream then a little bit of sugar. Don't over-mix or else the mixture will start to form clumps!
6. Fill each glass halfway with the cream mixture, and use an ice-cream scooper for even distribution.
7. Add a middle layer of chocolate chips. **
8. Fill the rest of the cup with the cream mixture, and smooth out the top with the back of a spoon.
9. Place the baker's chocolate in a bowl in the microwave for 15 seconds, and stir to prevent burning. Repeat until completely melted.
10. Seal the melted chocolate in a plastic bag.
11. Cut a small hole at the tip of the plastic bag and pipe decorations onto a sheet of wax paper.
12. Freeze the decorations for 30 minutes, place them on top of each dessert and serve cold! The recipe can be stored in the fridge for up to one week.
TIPS:
* Keep all of your ingredients at room temperature for a creamier filling.
** You can experiment by adding fruits, nuts, jelly, etc.
Enjoy this simple no-bake cheesecake! If you make it, be sure to tweet a photo of it @conantcrier!