Cougars in Need Increases Student Services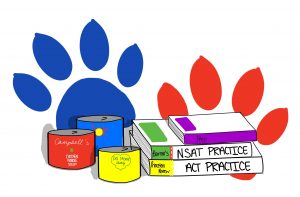 Mauli Patel
The percentage of economically disadvantaged students at Conant has risen substantially over the past few years, prompting Cougars in Need (CIN) and the Conant community to do more than ever to provide support.
Last year 26.6% of Conant students were eligible for free or reduced lunch, a 5% increase from the year before. Principal Julie Nowak said this is Conant's "indicator for economic disadvantage."
Students often refer themselves for the program or are referred through a teacher or counselor. If a student is in need, he or she should go talk to his or her counselor.
The Blessings in a Backpack program, which is an offshoot of CIN, hopes to expand the amount of food donated through the Student Council food drive, which will be a part of the new November charity month. Student Services Director Brigit Cain explained that Blessings in a Backpack "has programmatic guidelines" about what food can used, so food drive donations are also used in the Conant food pantry. According to Cain, donations also come from "community members and programs, namely the Rotary Club of Hoffman Estates."
Student Council advisor David Moravek said Student Council "helps Cougars in Need from time to time" through the food drive and also through extra money donated from homecoming ticket sales.
In addition to the November food drive, CIN provides Thanksgiving dinners donated by Riccardo's, a restaurant owned by Conant alum and parent Katy Garcia. Advanced foods classes and the Family and Consumer Sciences department will help package the meals this year, according to Hill.
On a Sunday in mid October, math teacher Stephen Kurfess does a YOX trot, a walk that raises money for CIN. Kurfess also asks for donations in class the week before the walk. Last year, he raised over $800.
The Booster Club and Conant families support CIN through the annual gift card drive. Hill said upon referral to the program, each family is given a $100 gas and $100 store gift card to "help cover both the meals and travel costs for those families."
Families receive a $50 Jewel and $20 Shell gift card in November, which Hill explained is for "families to buy extra food to go with their meals or to help the family member that is cooking the meal" and also to help cover the "travel cost" if families are going somewhere else for the holiday.
Hill added that during the winter holidays, "families were able to receive gifts from CIN based on wish lists." Conant staff and departments "adopt families," which will now receive gift cards to stores such as Target and Walmart.
Hill explained that this program has positively impacted participants so much that "some students who have been helped by CIN choose [later] to pay it forward by giving back to the program" to help families struggling like their family was.