AP price hike disadvantages students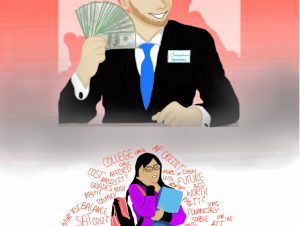 Mauli Patel
A full school year's worth of tedious, college-level work, all done to receive no academic credit–this is what a large population of students may be facing because of the increase in AP exam fees.
In 2016, students paid a fee of $82 per exam; over the past year, however, Advanced Placement (AP) exam prices have experienced a sudden hike, coming as a shock to many students. According to the College Board, the new set price for each exam in 2017 is $93, with $84 of the fee going towards the College Board, and the additional $9 being part of the school's profit.
Although the recommended price for each AP exam is $93, prices can increase depending on the financial situation of each school. Some consider the additional fee necessary, as it covers the cost of exam proctoring and administrative needs. In Conant's situation, the school follows the recommended price set by the College Board, not exceeding the minimum price.
The College Board does provide financial aid to students of low income families, giving everyone an equal chance to take the exam. Previously, students could take the test for anywhere from $5-$15. However, a recent change in funding policies has been instituted, causing a major hike in the reduction price to take the test as well; students who qualify to receive financial aid must pay a highly elevated price of $53, having a fee waiver of only $40.
According to Conant's AP exam coordinator, Adam Leibman, though the increase in financial aid fees poses disadvantages for students of low income families, the school district covers those fees, giving all students an opportunity to take the exam.
While financial aid is available for those who qualify, students coming from an average income household are heavily impacted by the sudden change. The situation places the value of their education against financial needs, acting as a major impediment. Not only is their potential to be successful on the exam being wasted, but their relentless work within each advanced class as well.
Many high schools, in D211 especially, prioritize enrolling as many students as possible in AP classes, setting them up to receive college credit. But having to pay a heightened fee may cause students to hesitate when considering taking the exam for each advanced class. The price hike could potentially cause a decrease in the number of students taking part in AP classes, as they would see no purpose in doing so if financial obstacles meant they could not take the exam.
Young adults should always be able to put their education and its value first; the increased prices may keep a large population of students from taking part in such an opportunity. This change not only puts them at a loss of academic credit but also heightens their college expenses. As a result, students may not be able achieve their full potential in their future endeavors.
Consequently, students should be diligent about the exams they sign up for and which AP courses they choose to enroll in. With the increase in fees, the number of exams each student takes should be kept to a minimum, keeping in mind college benefits and how well they would perform in a given subject area. Students now have to be mindful of the finances that come with their education.