College Board updates AP exam schedule due to COVID-19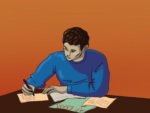 Christiana Kirov | Conant Crier
AP exams are right around the corner, and though they will be administered differently because of COVID-19, the revised schedule has been released by College Board and D211.
This year, AP exams will have three different administrations rather than one, during which each AP exam will be offered to students. So far, specific dates for exams have been posted for only the first slot. Students can opt for a digital version of the exam in the second and third slots. 
To take the digital exam, students must download the Digital AP Exam app and fill in the required information. The digital version will not be the shortened version of the exam given last year, but will be a full-length version of the exam. Some of the criteria that students taking the digital exam include having to take the exam at a specified time, having their test go through a post-exam analysis, and not being able to move back and forth between questions that have not been answered. CollegeBoard has also created a digital practice for students to test their setup.
Along with the changes to the AP schedule, students have had to adjust to having less class time to go over material for the exam, since classes only meet every other day.
Virav Patel '22, said, "I feel somewhat prepared, and I do feel that teachers are cramming information in during class time, in order to get through material that the class is behind on."
Teachers are also rushing to get through material with students while also making sure that they retain information, but they cannot force students to prepare extra outside of class.
AP Calculus BC teacher Tracy Sharky said, "We often try to have students complete all practice exams during class time come spring. This year, we have had to assign some of this work outside of class. Most students don't realize that they are the biggest factors in determining whether or not they are prepared."
Some students, however, have said they feel prepared for AP exams. Karan Kashyap, '23, said, "I feel mostly prepared for the AP exam based on the practice problems and tests that my teacher is giving me. Our teacher is not rushing the material; he spreads out the AP practice problems over a 10-week period before the exam so that we are well prepared when it is time to take the exam."
To make up for lost time, teachers are providing extra study sessions, along with academic support, to help students prepare.
AP US History teacher Amy Spizzirri said, "As far as preparation in regards to the AP Exam, that is really student-driven. As we near the exam, Mr. Garvey has offered review sessions for the APUSH exam over the course of the next few weeks."
The Conant AP Communication Document has more information on the AP exam schedule.