Face-Off: Is the NFL too dangerous for players?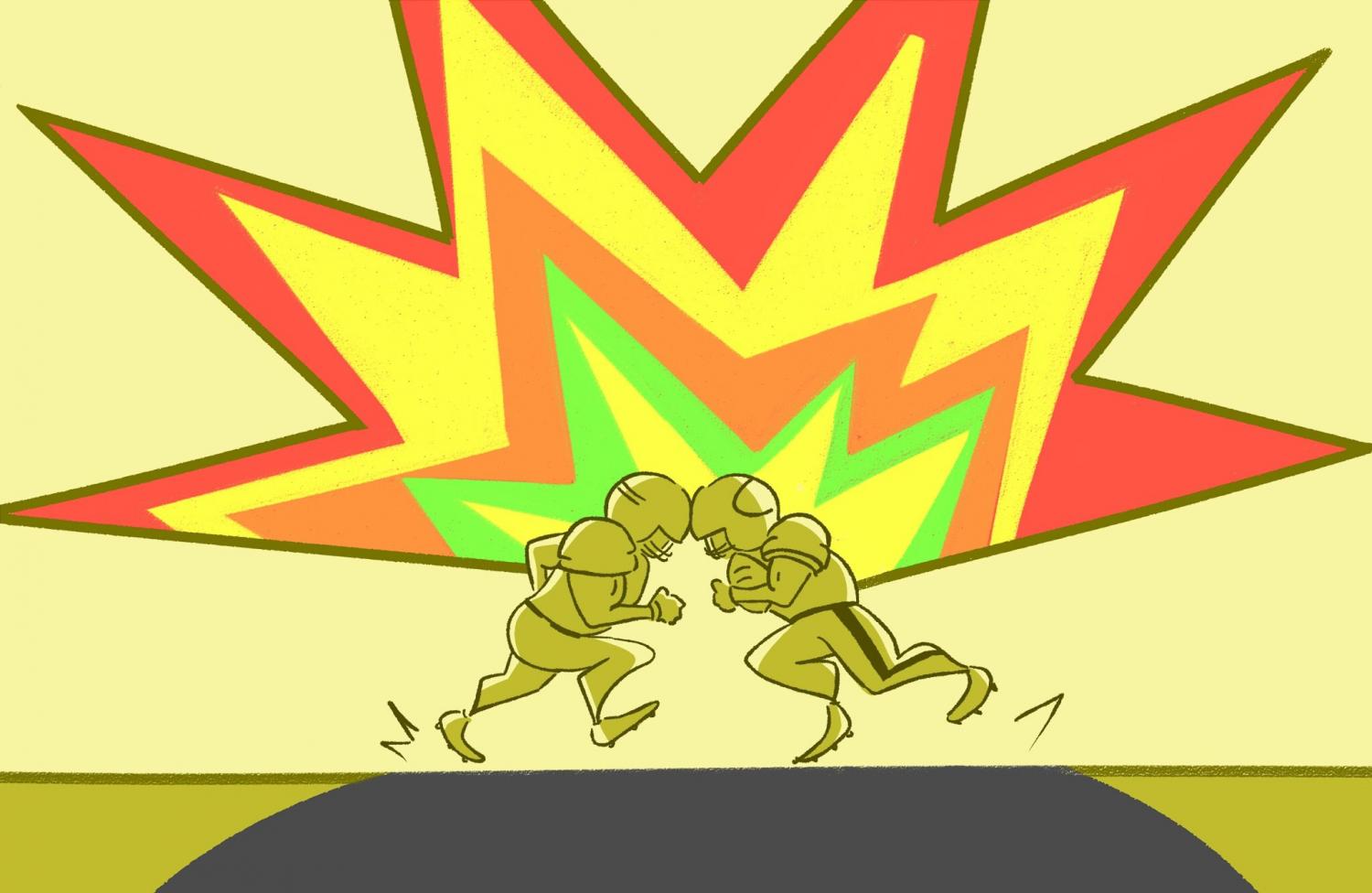 Graphic by Futo Wada
Football has been the most popular sport in America since 1972, according to annual Gallup polls. In 2017, the NFL earned $513 million in ad revenue alone. The sport is a significant part of American culture, but research connecting concussions with chronic traumatic encephalopathy (CTE), a degenerative brain disease, has made some spectators wonder if the NFL is doing enough to keep its players safe. Crier editors Isaac Goffin, '19, and Sarah Yamaguchi, '18, face off on the issue.
Isaac: NFL players know the risks of playing football and would stop playing if they thought the game was too dangerous. Those who decided the risks were too serious for them to play have retired, such as John Urschel, who played for the Ravens for three years, and Chris Borland, who retired after one season with the 49ers. These two examples prove that NFL players do consider life after football. This is an adult league, so it should always be up to the players to make their own personal decision for their best interest.
Sarah: I agree that the players can make the right choice for themselves, but I think it's hard to make an informed decision when new information is constantly being discovered about concussions. And while it is admirable that these athletes have made the difficult choice to retire, football players shouldn't have to choose between playing the sport that they love and living a healthy life post-retirement. The NFL needs to ensure the safety of its players by devoting more time and resources to researching how to prevent brain injuries and helping players who are already suffering their effects.
Isaac: The NFL is taking more action every year to ensure the safety of its players, particularly in diagnosing concussions. Recently they've hired independent neurologists to watch every play from every game and determine if a player might have sustained a concussion. The player is then taken off the field and given a concussion test by a team doctor. The system is not perfect, but it's becoming more effective each year.
Sarah: Even though the NFL has improved its own concussion prevention protocols, more widespread awareness about concussion prevention is needed. Young athletes are still suffering from the effects of brain injuries, such as former University of Pennsylvania player Owen Thomas, who became the youngest person to be diagnosed with CTE after his death at the age of 21. In addition to implementing new concussion protocols for its own games, the NFL needs to make other people more aware of the risks involved in the sport so these consequences can be avoided.
Isaac: I agree it is sad that there have been athletes who died from the effects of head injuries, but the NFL is actively doing their part to make the game safer. In recent years the NFL has sponsored a program named Heads Up Football, which works with medical professionals to implement safer methods of playing the game through youth and high school coaches. Additionally, 47 rule-changes have been made since 2002 to protect players, and in 2016 the league contributed $100 million to neurological research.
Sarah: You make a good point about the research that is currently being done. It's definitely a step in the right direction, although I still think that the high rate of traumatic brain injuries in NFL players shows that more changes need to be made. It may be too early to see the results of the new safety measures, but it's not too late to try to reduce current athletes' risk of brain injuries.