Goffin: Thank you, Conant Crier
I had no idea what I was getting myself into when I wandered into the incubator room on Nov. 30, 2016. At that time, I was hoping to contribute to the Crier in any way possible.
Two and a half years later, I have written almost 100 articles and won countless awards for my journalistic work. Last month, I placed first at State in sports writing, was named to the All-State Journalism Team,  and placed sixth at State in news writing, all on the same day. Though I'm extremely proud of these accomplishments, I have gained so much out of my experience here at the Crier that no award could measure.
I would first like to thank my advisers, David Gwizdala and Asra Syed, for helping me realize my full potential and allowing me to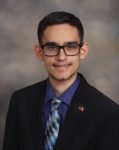 Isaac Goffin | Conant Crier
participate when I was an unknown sophomore. Without their belief in me, it is very unlikely that I would've chosen journalism as my major. When I placed fourth at State in sports writing two years ago, I immediately knew this was the path I wanted to take in life.
I would also like to thank to thank my past and current Editors-in-Chief. Dhvanii Raval, Annika Lafyatis, Aditi Katwala, Sarah Ahmad, and Michelle Zhang have all helped me out with the countless number and variety of articles that I've written. I've come a long way since my first article about wrestling winning Regionals, and a big part of that is due to them.
The administration here deserves to be thanked as well, especially Principal Julie Nowak and Athletic Director John Kane. Not many schools have administrators that support their journalism program as much as the ones do here, and without their support I might not have been as enthusiastic and eager to cover all the sports and events that I did.
Lastly, my experience couldn't be completed here without all the help I've had from the numerous coaches and players I've interviewed. I certainly didn't expect the coaches and players here to be this helpful, especially early on in my career when I had little clue on what I was exactly doing. I will unquestionably miss all of you, and I will never forget the ups and downs we experienced together.
Out of the approximately 100 articles I have written, I have many favorites, but I do have one favorite: Once his player, now his colleague: Assistant football coach reunites with head coach. Though not the best story I've written in terms of my own personal writing ability, it was my favorite one to cover and write about. It was the first story I went in-depth on, and the interest that assistant coach Jon Janus had in me writing the article is something I've not seen matched yet.
I used to not want to get into journalism because I thought you had to be in politics or be a big figure to make a difference in the world. Since I've started practicing journalism, I've proven that claim wrong every day through my own work and perseverance to tell a story. I will continue to do the same in the next four years as I move on to The Daily Iowan at the University of Iowa.
Once a Cougar, Always a Cougar!